Keith Olbermann Compares Himself To $10 Million Chandelier, Rips Current Network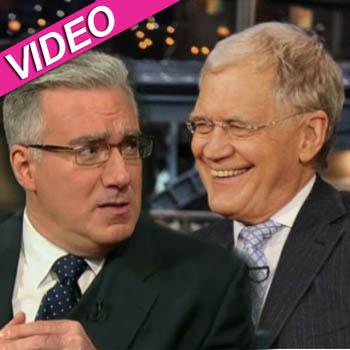 Keith Olbermann, appearing on the Late Show with David Letterman Tuesday, groused about the working conditions and professionalism at the Current TV network following his firing Friday, less than a year after he inked a five-year, $50 million contract.
"I screwed up: I screwed up really big on this," the sullen newsman said in his first interview since the severance. "It's my fault that it didn't succeed, in the sense that I didn't think the whole thing through.
Article continues below advertisement
"I didn't say, 'You know, if you buy a $10 million chandelier, you should have a house to put it in.'"
Letterman joked, "You're the chandelier?"
Olbermann, who told Letterman he was being paid until last Thursday, said he had thought about quitting as far back as July, as red flags like unpaid bills clued him into his professional misstep.
In defense of missing the network's Super Tuesday coverage -- a critical time for news networks -- Olbermann claimed he'd been fighting off a throat ailment and was under doctor's orders not to speak.
Watch the video on RadarOnline.com
As for the network's co-founder and former Vice President Al Gore, he might have been the only one tied to the project who was spared, as Olbermann said Gore "meant well, but it didn't go well.
"He just wasn't that involved in it and it was kind of difficult to get to him on these things."
Not spared was Current CEO Joel Hyatt, as Olbermann said "television was something of a challenge for him."
Article continues below advertisement
Asked about the legal implications of the split -- i.e., if he's getting paid for the duration of the contract -- Olbermann bragged he's got the same attorney (Patricia Glaser) as Conan O'Brien in his battle with NBC two years ago, in which they paid him $45 million to essentially go away.
"She's my lawyer," he said.
Former New York Gov. Eliot Spitzer has taken Olbermann's place on the network.
RELATED STORIES: