Will Ferrell: 'There Will Be A Sequel To Anchorman'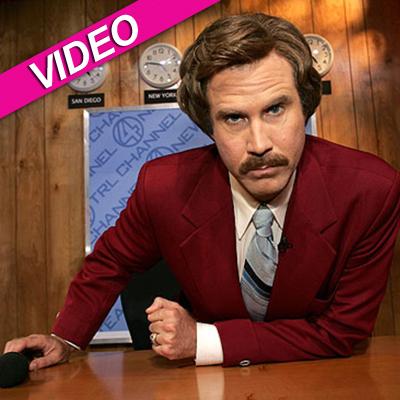 Fans of the 2004 cult hit Anchorman: The Legend of Ron Burgundy are smiling Thursday, as Will Ferrell, decked out in his get-up as snazzy 70s newsman Ron Burgundy, announced a second installment of the comedy in the works on Wednesday's edition of Conan.
"I want to announce this to all of our friends in the Americas, Spain, Turkey and the U.K. -- including England -- that as of oh-nine-hundred hours Mountain Time, Paramount Pictures and myself, Ronald Joseph Aaron Burgundy, have come to terms on a sequel for Anchorman," Ferrell said. "It is official: There will be a sequel to 'Anchorman.'"
Article continues below advertisement
Ferrell, in full character, reprised the jazz flute he famously performed in the original.
Paul Rudd, Steve Carell and David Koechner, who played Ferrell's trusty news team, will all be coming back for the second film, according to Deadline.com, while Hollywood bigwigs Judd Apatow and Adam McKay will produce and direct, respectively.
Ferrell has long been tight with O'Brien, having been the first and last guest during the redhead's ill-fated stint as host of Tonight Show.