Exclusive
Tatum & Redmond O'Neal Slam Dad Ryan's New Memoir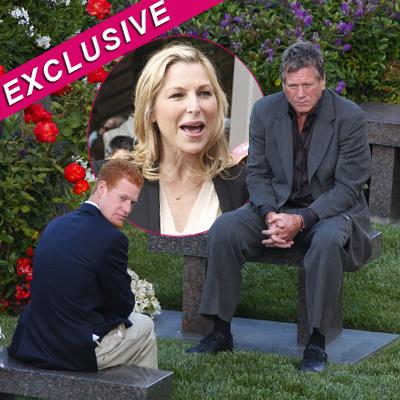 Article continues below advertisement
Redmond O'Neal is outraged that his father is attempting to blame him for his 2008 drug arrest.
In the book, Ryan writes, "Then, in September the police raid my house in Malibu early one morning as part of a court-mandated check on Redmond, who is on parole. Farrah is back home and sleeping upstairs when they descend upon us. They ransack the place, determined to unearth something, and they do. I had found a packet of crystal meth in Redmond's room the night before, so I took it from him and hid it in my shoe under my bed, thinking I'd dispose of it the next morning. The police came before I had a chance. The police find Redmond's stash. We are both booked and prosecuted. (Two months later, to protect Redmond, I would plead guilty to possession of crystal meth and be sentenced to attend outpatient drug management sessions. I had claimed ownership of the meth thinking the court would go lighter on Redmond. In retrospect, it didn't help him and only further sullied my reputation.)"
The only child Ryan had with the late Farrah Fawcett is enrolled in a court-ordered rehab after a heroin possession arrest last year. He is scheduled to complete it in October.
"Let's be very clear about something, yes, there were drugs that were Redmond's that cops found, but the drugs found in Ryan's room were absolutely 100% his, and not Redmond's. Period," the source tells RadarOnline.com. "For Ryan to say that those drugs were Redmond's and not his is just wrong. Redmond just wishes his father would never publicly talk about him because he absolutely shuns the spotlight, and he had hoped that Ryan wouldn't have written the book and discussed him so much. Redmond is an intensely private person like his mother Farrah was, and he is really trying to do the best he can right now in the rehab facility he is in."
Article continues below advertisement
Meanwhile, Ryan's daughter, Tatum, who was recently released from rehab after a cocaine relapse last year, is just as perplexed about her father's memoir, says the source. After Farrah's funeral, Ryan admitted he hit on his own daughter, not recognizing her as Tatum, a story Tatum confirmed at the time.
But in his book, Ryan says in the book, "In the days and weeks following Farrah's death, one magazine suggested the unthinkable: that I actually had come on to Tatum. It was an innocent private joke between the two of us. Ever since she was a little girl, Tatum and I would play this game pretending we'd just met. It was silly and sweet. So at the funeral I greeted her with my line from our little act to let her know how much I loved her and that I still remembered, despite the difficulties between us. I wanted to try to make her smile, if only for a moment. I considered trying to set the record straight myself, but I didn't think anyone would believe me."
However, Tatum's recollection of that awkward encounter is very different. "Tatum has told friends that her father didn't recognize her at Farrah's funeral. He saw her and didn't know it was Tatum because she was wearing sunglasses, he was absolutely hitting on her, not realizing it was his daughter. It was beyond creepy and disgusting, but not surprising for Tatum, sadly," the insider says.
Ryan's account of that day is also disputed by an interview he gave to Vanity Fair in 2009. "I had just put the casket in the hearse, and I was watching it drive away when a beautiful blonde woman comes up and embraces me. "I said to her, 'You have a drink on you? You have a car?' She said, 'Daddy, it's me--Tatum!' I was just trying to be funny with a strange Swedish woman, and it's my daughter. It's so sick."
Article continues below advertisement
During a visit to Ryan's house over the holidays Tatum accused her father of never being there for her and of being a narcissist, spurring a huge blow out between the tumultuous two.
"These two have gotten into arguments before, but this one was an epic one," a source told RadarOnline.com. "Tatum was upset that she's broke and that their failed reality show for Oprah's OWN channel was canceled, and that Ryan wasn't doing anything to help her. Tatum accused him of being a narcissist and he got in her face and told her to get the f*ck out of his house. He accused her of being a horrible mother and that just pushed her over the edge.
"Tatum has also written books about her life, and she thinks it can be a cathartic experience, and but she just wishes Ryan's book focused more on facts. Tatum thinks Ryan is attempting to re-write history and endear himself to the public," the source says.
As RadarOnline.com previously reported Ryan O'Neal recently was hit by claims that he fathered a child with a woman after a brief fling -- a charge he vehemently denies -- and he has agreed to take a paternity test to resolve the matter, which he believes will fully vindicate him. Farrah Fawcett's ex recently announced that that he has prostate cancer.
Article continues below advertisement