Exclusive
Benefactor That Loaned Octo-Mom Money To Buy Her House Is Planning To Sue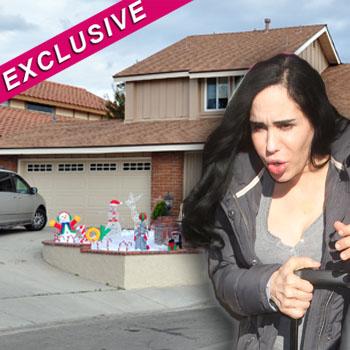 RadarOnline.com Assistant Managing Editor
Amir Haddadin, the man who loaned Nadya "Octo-Mom" Suleman more than $450k to buy the La Habra house she is living in, which is scheduled to be auctioned off by the bank on Monday, is planning on suing her for failure to pay back the loan to him for over a year and causing his credit to be in shambles, RadarOnline.com is exclusively reporting.
As previously reported, Octo-Mom's house is scheduled to be auctioned off on Monday because Suleman hasn't made a mortgage payment in months. The controversial mother-of-14 found herself at the center of a firestorm Wednesday as photos surfaced of the property showing the squalid conditions she subjects her children to. A cleaning crew arrived to the house late Wednesday to scrub the graffiti-riddled filthy house from top to bottom.
Article continues below advertisement
"I will most likely be forced to file a lawsuit against Nadya for failure to pay me as we agreed to. My credit was perfect before I met her, it was in the high 700s, it's now in the 300s. Nadya's credit isn't ruined, mine is," Haddadin tells RadarOnline.com. "She owes me over $450k for the loan and $33k in missed mortgage payments because I'm the technically the landlord of the house. I didn't do anything to deserve this and she isn't concerned about me at all, it's all about her. So yes, I will probably be forced to file a lawsuit against her in the very near future."
MORE ON:
Celebrity Justice
However, Amir's real concern is Nadya's 14 children, and their well-being. "I feel so sorry for those children and I worry about them. What kind of life are they living now? Going to the bathroom in the backyard of the house in portable toilets -- they aren't animals. Does Nadya realize that? Truly, what kind of life can these children have with her as a mother?" Amir asks.
The 36-year-old single mother's home, which has been in constant financial trouble since she moved in, has one bedroom with the words "do not enter" spray painted on the door and there is a visible dent where a chair has been propped to keep the door closed. Suleman said she receives about 5k a month in public assistance but is expecting that to end very soon.