Forbes Most Overexposed Celebrities! Kim Kardashian, Snooki & Kate Gosselin Land On The List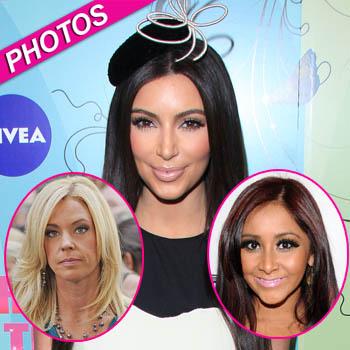 By Leah Ornstein - Radar Features Editor
How much exposure is too much exposure?
Forbes magazine released their Most Overexposed Celebrities list on Thursday, which included Kim Kardashian, Snooki, Kate Gosselin and Lindsay Lohan – but not all the stars who scored slots on the list are suffering from their surplus of celebrity!
Gerry Philpott, CEO of E-Poll Research, the firm responsible for the list explains that overexposure isn't as bad as it used to be.  "A decade ago being overexposed was the kiss of death," says Philpott. "But today it's necessary to fuel reality TV."
Article continues below advertisement
Kim, who topped the list with a 65 percent overexposure rating (the average score of a Hollywood star is 5 percent) due to her over-the-top wedding, whirlwind marriage and hasty divorce filing, raked in $12 million according to Forbes – meaning her overexposure is profiting her. Her sisters Khloe and Kourtney also made the list.
Lindsay Lohan, one the other hand, who trails Kim in the number 2 slot by only 1 percent, is definitely more hurt by her overexposure than anything else.
"If you want to be a serious movie actress maybe you don't want high overexposed numbers, but if you're going to be a successful reality star, you need those numbers," says Philpott.
Kate Gosselin may not have a show on the air any longer, but she is still overexposed according to the poll! The mother-of-eight scored herself the 6th slot on the list with a 57 percent overexposure rating.
To see who else made the list of the most overexposed celebrities in Hollywood, click here.