Forbes Most Overexposed Celebrities! Kim Kardashian, Snooki & Kate Gosselin Land On The List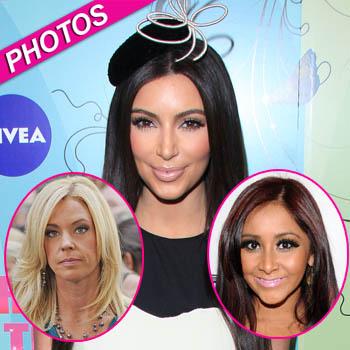 Article continues below advertisement
Kim, who topped the list with a 65 percent overexposure rating (the average score of a Hollywood star is 5 percent) due to her over-the-top wedding, whirlwind marriage and hasty divorce filing, raked in $12 million according to Forbes – meaning her overexposure is profiting her. Her sisters Khloe and Kourtney also made the list.
Lindsay Lohan, one the other hand, who trails Kim in the number 2 slot by only 1 percent, is definitely more hurt by her overexposure than anything else.
"If you want to be a serious movie actress maybe you don't want high overexposed numbers, but if you're going to be a successful reality star, you need those numbers," says Philpott.
Kate Gosselin may not have a show on the air any longer, but she is still overexposed according to the poll! The mother-of-eight scored herself the 6th slot on the list with a 57 percent overexposure rating.
To see who else made the list of the most overexposed celebrities in Hollywood, click here.