Exclusive
Michael Lohan Claims Kate Major Has 'Relapsed, Is Flat Broke & Trying To Trap Me In A Pregnancy!'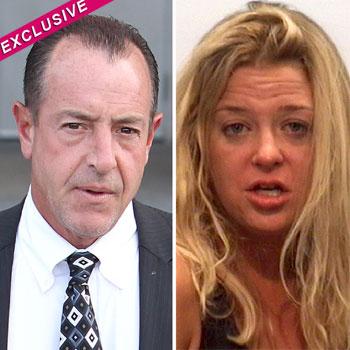 Article continues below advertisement
"She hates the fact that I'm doing so well, that I am getting close to Dina and the kids who hate her, and can't stand the fact that my mom and sister came down to visit me and Kate was unwanted."
According to Michael, he was in the hospital recently and Kate showed up unannounced — and it was there that he says they got intimate.
"I was in the hospital with kidney stones and Kate just barged in!" Michael said. "She's been taking ovulation tests trying to get pregnant from me."
Michael says Kate fell off the wagon earlier this week and that was the final straw for him.
"Kate has relapsed. I caught her drinking a beer at 9 a.m. two days ago!" he says.
"When I told her I was over all of these things and her lies, she called the police to file a false report to make money, like she did every other time. She knows the only way she can make money is to make a false claim against me and try to sell the story."
Article continues below advertisement
The Lohan patriarch insists he tried to help Kate, even giving her money to pay her attorneys, but says it's a lost cause.
"Nobody will give her money. Her dad cut her off and I paid $1,000 toward her current legal bill because her dad and family won't," Michael says.
"She calls me to meet her at the tanning salon, I tell her I'm done supporting her and being used, so she flips out and says I banged on the glass and filed a police report. It's all lies."
Keep in mind, Kate filed for a temporary restraining order against Michael last June when the two were going back and forth with abuse allegations, and the TRO was made permanent in November — and doesn't expire until 2013.
When RadarOnline.com reached out to Kate she gave us the following statement: "I don't even want to give Michael Lohan any more energy. He is a sick, old man who I want NOTHING to do with. He is a liar and because I want nothing to do with him, he has been stalking me and I finally HAD to take action again. I have emails, pictures and witnesses to disprove all of his desperate and pathetic claims, plus a permanent order of protection which he constantly violates."