Exclusive
Kim Kardashian Won't File Formal Police Report Against Flour Bomber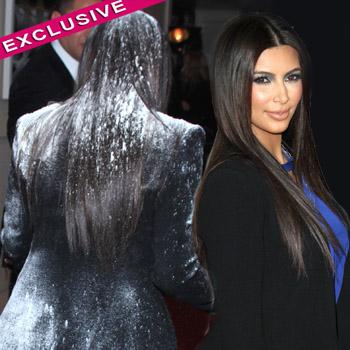 Kim Kardashian has decided not to file a formal police report against Christina Cho, the woman who threw a flour bomb on the reality star last month on the red carpet at the event for her new fragrance, RadarOnline.com is exclusively reporting.
As we previously reported, Kim was flour bombed by the PETA activist at the swanky West Hollywood hotel, The London. The Los Angeles County Sheriff's Department took a non-criminal battery report of the incident that night, and Cho was briefly taken into custody, but wasn't arrested.
Article continues below advertisement
In the days after the attack Kardashian hinted that she was going to press charges against Cho, but she has had a change of heart.
"Kim ultimately decided that it was going to be more trouble than it was worth, and she didn't want to give Christina Cho a platform for her to promote whatever agenda she obviously has," a source close to the reality star tells Radar. "Kim is just too busy and has so much going on with her life to file the report, meet with investigators and possibly testify at a trial if Cho was going to be charged. Remember, only prosecutors can determine if charges are ever going to be filed, that decision was never up to Kim.
"What Kim could have done is filed a formal complaint or a police report and then that would have been turned over to prosecutors to determine if there was enough evidence to charge Cho. Kim is already going through exhausting and taxing divorce proceedings, she doesn't want to get involved in yet another legal drama."
As RadarOnline.com previously reported, Kim's younger sister Khloe severed ties with PETA after it was revealed that Cho had close ties to the group. "Not only has PETA lied to the public, but they have proved that they support this kind of behavior. I've been a vocal supporter of PETA for a long time, but I have also been very vocal about anti-bullying, so this was a huge disappointment for me. As you all know, I don't condone violence and bullying and what happened last Thursday was just that.. I'am absolutely disgusted by PETA's behavior. Everyone is entitled to their own beliefs and opinions. I personally don't wear fur but that doesn't mean I am going to force my views on anyone else, ESPECIALLY by violating them," Khloe said on her blog shortly after the attack.
Article continues below advertisement