Exclusive
Goodbye Rosie, Hello Maria? Oprah Winfrey Wants Shriver For OWN Network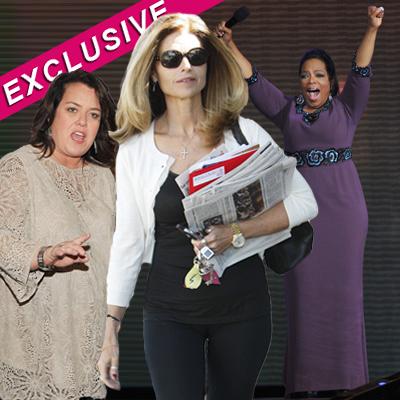 Article continues below advertisement
"Oprah knows she needs to pull a rabbit out of the hat, literally," a source close to the situation tells RadarOnline.com. "She has been in discussions with Maria for a very long time about doing a news/special interest driven show for OWN. However, Oprah has ramped up the pressure in the past several weeks. Maria definitely wants to get back to work, but she has to make sure that it's the right project. With her son Patrick about to graduate from high school in the next few months, she will have only one other child, Christopher, living at home with her. It's highly unlikely Maria would get her own show though, she doesn't want that amount of responsibility, period. Oprah has told Maria that she could do specials for the network with an emphasis on the human interest issues that she is passionate about. Oprah admires and respects Maria so much, and she thinks her viewers can relate to her."
Meanwhile, Winfrey hasn't lost her sense of humor -- despite OWN's abysmal ratings and has been cracking jokes as she tries every trick in the book to recruit Shriver.
"Oprah called Maria recently, and said in her most serious voice, 'look Maria, I'm sinking, and I need you to do a reality show for OWN.' She carried on for 2-3 minutes about what the show would be called. Oprah is quite the actress, and Maria was just silent, and Oprah eventually burst out laughing, and said, 'ha, I had you, didn't I? I would never ask you to do a reality show, but if that shouldn't stop you from volunteering to do it,'" the insider tells RadarOnline.com.
Article continues below advertisement
"Maria has been assured that any project she would do for OWN would be filmed in Los Angeles, or a location that was convenient to her. Oprah is cognizant of the fact that Maria needs to be close to Los Angeles for her son," the source adds.
As RadarOnline.com previously reported, Rosie wanted her show to be taped in New York City, but Oprah balked and said it had to be in Chicago in her former studio. "Rosie pushed for the show to be in New York City," an insider said. "Rosie lives in New York, her family is there, it's where she has had success with her solo talk show. Oprah insisted that the first season be shot in Chicago though because that's where she lives, and it was more cost efficient because Rosie just moved into Oprah's old studio. Oprah had promised to revisit the issue if the show got picked up for a second season."
But, despite Winfrey's plea to Shriver, the former First lady of California isn't ready to commit either way, just yet.
"Maria just can't give Oprah an answer yet," the source says. "She has been offered book deals and several offers from the major networks. Maria needs to do what is best for her and she just doesn't know if working for her close friend is a good idea, she values her friendship with Oprah so much. Oprah was Maria's first non-Kennedy friend that she ever made when she was a young adult. Maria will choose her friendship over work."