Exclusive
Lisa Vanderpump On The Warpath, Demanding The Housewives Take Sides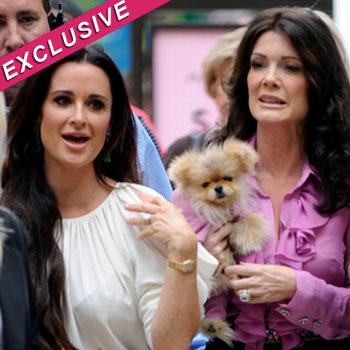 Article continues below advertisement
Vanderpump, the British doyenne of the bunch, has reached out to Kyle Richards to tell her that she had better get in line or else!
"Lisa is on the warpath and she's ready to battle her co-stars," a source told RadarOnline.com. "Lisa told Kyle Richards that she has to take sides now. That she's either with Lisa or against her."
Lisa and Kyle have always been friends, and Kyle's husband Mauricio Umansky was the real estate agent when she sold her multi-million Beverly Park mansion, but following the Reunion taping, Lisa has been angry with the way she felt Kyle ganged up on her.
"Lisa is trying to manipulate the other women on the show and she wants Kyle to be on her side and be her friend," the source said. "And she'll do anything she can to stir up the drama."
As previously reported, fur flew at the Reunion show when what started out as a fight over Adrienne Maloof's chef Bernie hating Lisa turned into a cat fight over selling stories -- to RadarOnline.com!
Lisa accused Bernie of selling a story to the tabloids, which infuriated Adrienne, who then claimed the Brit sold her own stories.
Article continues below advertisement
"I've never sold a story!" Lisa adamantly said. But Adrienne wouldn't back down, and the claws were out in full force!
"You've never sold a story? To RadarOnline?" Adrienne questioned her former neighbor, jewels glinting from the lights as the ladies went at each other.
"Never sold a story. Have I talked to RadarOnline? Yes!" And she has, about her new house and dishing on her co-star Camille Grammer's life without her ex.