Exclusive
Lindsay Lohan's Insurance Company Paid More Than Half a Million Dollars To Car Chase Victim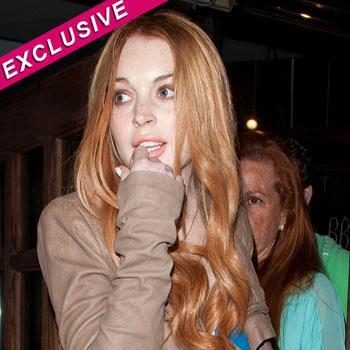 Article continues below advertisement
The settlement was reached with Lohan's insurance company and Rice last year for more than $500k. "The insurance company felt that a jury would definitely be compassionate towards Tracie who lost her job, and racked up huge medical bills because of the stress of that night," a source close to the situation tells RadarOnline.com. "Tracie suffered from panic attacks for years and had to seek mental health counseling.
"Remember, Lindsay chased the car driven by Michelle Peck for at least 5 miles at a very high rate of speed. Neither Michelle nor Tracie knew who was behind the wheel of the car that was chasing them at the time. Tracie thought they were being carjacked, and when they drove into the parking lot of the Santa Monica Police Department seeking refuge, and Tracie got out of the car, the cops had their guns drawn on them -- because the cops didn't know what they were dealing with. Lindsay got out of the car, running towards the women, and this is when the cops apprehended her and she was placed under arrest for DUI. Tracie genuinely thought they were going to die that night when they were being chased."
MORE ON:
Celebrity Justice
Article continues below advertisement
Lilo was also accused of carjacking and kidnapping three men that night, and they are also suing claiming their lives were endangered and that case is scheduled to go to trial this summer. "The three men are all represented by the same attorney and they have been unable to reach a settlement with Lindsay's insurance company, and this case will be going to trial, and Lindsay will absolutely be required to take the stand. Lindsay will have to answer questions under oath about her alcohol and drug use that night" the insider says.
The Mean Girls star is currently under investigation for a hit and run incident that allegedly occurred about two weeks ago. Thaer Kamal, the manager of Hollywood hotspot, The Hookah Lounge, met with LAPD detectives on Tuesday for about an hour.
"Thaer gave an honest and accurate account of what happened to him that night," a source close to the situation told RadarOnline.com. "He wants Lindsay to be held accountable for her actions. She shouldn't have driven way after hitting him, period. He doesn't want her to get away with it. Thaer feels that Lindsay's camp has bullied him by making up stories that he was being investigated for insurance fraud. He was steadfast in his conviction that he has never committed any crime, and hasn't been investigated ever for fraud. Thaer is fearful for his family back in Iraq, he has done nothing wrong, he didn't break any laws. He served with the United States Army for six years and seven months, and has a spotless record. He obeys all laws, and he wonders why Lindsay doesn't."