DUI Millionaire Manslaughter Trial: Jurors Shown Car Crash Photos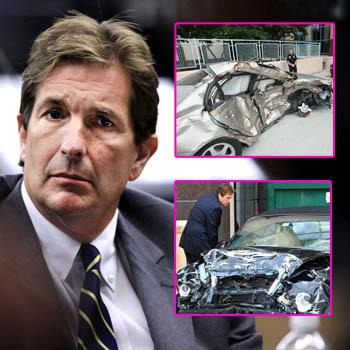 By Debbie Emery - RadarOnline.com Reporter
Jurors deciding the fate of multi-millionaire John Goodman got a first-hand look at the devastation that he caused when he allegedly committed vehicular homicide after they were shown photos of the wrecks of the two cars involved in the fatal accident
The 48-year-old's mammoth 5,600 pound black Bentley was damaged at the front, but it was 23-year-old Wilson's mangled Hyundai Sonata that resonated with those in the Palm Beach, Florida court, who saw that it was ripped apart down the entire right side, and RadarOnline.com has the shocking photos.
Article continues below advertisement
As RadarOnline.com previously reported, Goodman was more than twice the legal limit when he smashed into Wilson's car in February 2010, pushing the vehicle into a canal, where the young man was left to drown.
After his arrest for DUI, Goodman adopted his longtime girlfriend, Heather Laruso Hutchins, 42, as his daughter in a Miami-Dade County court, which is seen by many as a move to protect his $300 million fortune in preparation for a wrongful death civil lawsuit brought against him by Wilson's parents, William and Lili, who were among those carefully examining the photos of both cars on Monday.
Despite allegedly knocking back lethal Irish Car Bombs and Mind Erasers before getting behind the wheel that fateful night, the polo mogul has denied being drunk at the time of the crash, however Palm Beach County Deputy Sheriff Troy Snelgrove told the court that he was "slow in his movements" and that "he was slurring his speech" when later questioned at the Wellington Regional Hospital.
"It was apparent that the Bentley had went through the stop sign," Snelgrove explained to the court, revealing that Goodman had refused to give blood when asked for it. "His eyes were bloodshot and glassy. I did smell alcoholic beverage."
Article continues below advertisement
Investigators estimate that Goodman was traveling at around 63 mph at the moment of impact.
Defense attorney Roy Black has argued that rather than being drunk behind the wheel, Goodman had car problems that caused his Bentley to malfunction and accidentally accelerate into the intersection. After the collision, he claims, the defendant was unconscious for some time and then tried to walk to get help once he regained his senses.
Hurting from the crash, Goodman staggered to a nearby barn where he found some alcohol which he then drank to ease the pain, claimed Black, in a bizarre explanation as to why investigator reports suggest that Goodman could have had 16 to 18 drinks in his system at the time of the crash.
If convicted, Goodman faces up to 30 years in prison.