DUI Millionaire's 'Adopted Daughter' Testifies In Manslaughter Trial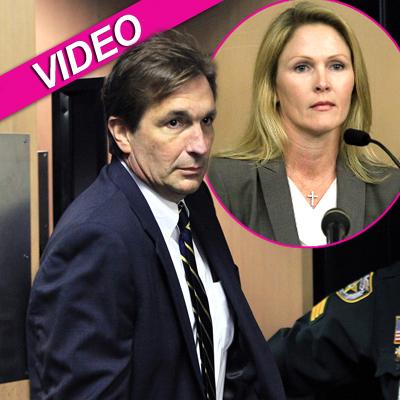 By Debbie Emery - RadarOnline.com Reporter
She went from his girlfriend to adopted daughter, and on Wednesday Heather Laruso Hutchins took the stand to testify in the defense of her lover and legal parent, John Goodman's, DUI manslaughter trial.
Hutchins, 42, told the Palm Beach, Florida, courtroom how the multi-millionaire had called her soon after the February 2010 accident in which he crashed into student Scott Wilson, pushing his car into a canal.
Article continues below advertisement
Goodman, 48, subsequently adopted Hutchins as his daughter in a Miami-Dade County court last year, which is seen by many as a move to protect his $300 million fortune in preparation for a wrongful death civil lawsuit brought against him by Wilson's parents, William and Lili.
"He said that he had been in an accident, and he wanted me to call Carlos (Goodman's part-time driver) to come help him," said Hutchins.
Goodman had made the call on the cell phone that he borrowed from a woman who lived in a trailer near the crash scene.
Lisa Pembleton was sleeping when she was startled awake to find the 48-year-old stranger standing at the foot of her her bed. After lending him her phone, she overheard him describe the crash and convinced him to make another call.
"I said I thought that he needed to call 911 in case anybody was hurt," Pembleton said.
Article continues below advertisement
But it was over 27 minutes later before the polo owner called emergency services, by which time it was too late to save 23-year-old Wilson, who had already drowned in the canal.
Colby was asked if she recalled her boyfriend saying if he had anything to drink, and said "No," despite the fact that his blood alcohol level was over twice the legal limit three hours after the crash.
He also didn't say anything about his car malfunctioning, which is a key part of the defense's argument, who claim the business mogul's Bentley had mechanical problems that caused it to hurtle through a stop sign as he accelerated instead of breaking.
During his opening statements, Goodman's attorney Roy Black claimed that his client was hurting from the crash, so he staggered to a nearby barn where he found some alcohol which he then drank to ease the pain, claimed Black, in a bizarre explanation as to why investigator reports suggest that Goodman could have had 16 to 18 drinks in his system.
When the police arrived at the scene, officers were shocked at the stench of alcohol seeping from the driver, "it was like it was almost coming directly from his pores," said one responder.
Article continues below advertisement
While Palm Beach County Sheriff's Deputy Richard Safford said he had to let down the windows of his patrol car "to let it just clear out," reported ABCNews.com.
"I felt he had a couple of drinks. He stated that to us," EMT Robert Perreault told the court, but he didn't think he had consumed a large amount of alcohol, and Goodman told him he'd "had a couple glasses of wine."
Witness Nicole Ocoro was the first person to find the smashed up Bentley -- still smoking with the doors hanging open -- as she was walking home, but no one was in sight, so she rang 911 and it was her call that first alerted police.
The trial continues Thursday.