Seven Things You Didn't Know About Smash Star Katharine McPhee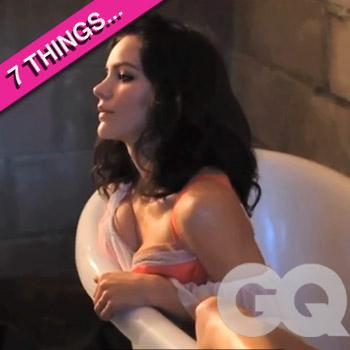 By Debbie Emery - RadarOnline.com Reporter
Former American Idol contestant Katharine McPhee has proven that she's all woman in the new hit musical show, Smash, showing off a sizzling sexy side that most fans didn't even know existed!
In celebration of her ground-breaking new role, RadarOnline.com brings you seven things that you didn't know about the talented 27-year-old singer.
7. Katharine doesn't act like a Hollywood starlet but she actually grew up in La-La Land and both her parents are in the entertainment industry. Her mom, Patricia, was a vocal coach and cabaret singer, while dad Daniel is a television producer.
Article continues below advertisement
6. McPhee began hitting the high notes when she was just two years old, and was soon on stage performing in musicals and plays while she was attending Notre Dame High School in Sherman Oaks, California.
5. She's a college drop out! Katharine majored in musical theater at Boston Conservatory but dropped out after just three semesters after her manager encouraged her to audition for TV pilots.
4. The pressure to be thin has weighed heavily on Katharine during many times in her life, and she has admitted to battling eating disorders from the age of 13. After seven years of extreme yo-yoing from purging and excessive exercising to binging in college, she entered a three-month rehab program just before she appeared on American Idol.
3. Despite coming in second to gray-haired crooner Taylor Hicks in the season five American Idol finale, McPhee won a place in viewers' hearts with her moving rendition of Judy Garland's Somewhere Over The Rainbow.
2. She comes across as a goody two shoes, but Kat's acting roles are far from innocent! Before her current starring role on Smash, the brunette beauty appeared in The House Bunny as a sorority girl alongside Anna Faris.
Article continues below advertisement
1. She likes older men! Sorry Simon Cowell, we don't mean you. McPhee and her husband Nick Cokas, 46, celebrated their fourth wedding anniversary last week. The couple became friends when they both appeared in a L.A. Theatre production, and then romance blossomed after the producer encouraged her to audition for American Idol.
Take a look at sexy footage of Katharine from GQ below:
RELATED STORIES:
Who Is M.I.A? Seven Things You Didn't Know About The Super Bowl Rapper