Exclusive
Demi Moore's Rehab Treatment: Not Allowed To See Her Weight On Scale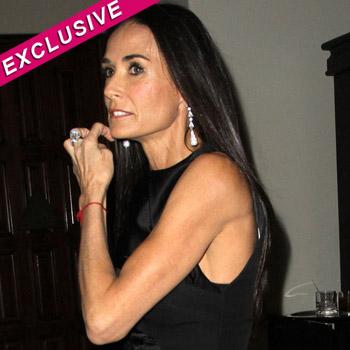 Article continues below advertisement
"It's common treatment practice at Cirque to not allow patients that are being treated for an eating disorder to see how much they weigh when they step on the scale," an insider tells RadarOnline.com. "Their weights are taken everyday, sometimes several times a day to make sure that they aren't losing weight while in treatment. Doctors at Cirque don't want patients to fixate on their weight.
"Eating disorders are all about control, plain and simple. When someone is in the ravages of an eating disorder, their lives are typically out of control. The one thing someone with an eating disorder believes they can control in their lives, is food. Demi isn't being forced fed or chastised for not wanting to eat though. The counselors at Cirque are working on giving Demi a safe and controlled environment, she is getting the best care possible. She is also dealing with an addiction to prescription medication, and she has a comprehensive team taking care of her."
Meanwhile, the Striptease star looks like a shell of her former glamorous self, and weighs under 100 pounds.
"People just say Demi should just eat something, well if it were that easy, she would. Anorexia is a very serious disease, and treatment can take three months before a patient begins to see success," the source says. "She will likely stay at Cirque for at least 60 days. She doesn't have a roommate currently, but that could change though as she advances through the program."
Article continues below advertisement
During the first several weeks Demi will have very little contact with the outside world, this lets her treatment team keep their focus on getting her healthier, without distraction from the real world.
"Demi won't be allowed to call anyone during the first week, nor can she receive any phone calls. As time goes by, and if Demi is doing well, her doctors will allow her to have limited access to her cell phone for a small amount of time," the source states.