Miley Cyrus Defends Demi Moore - 'Not Everyone Is On Drugs'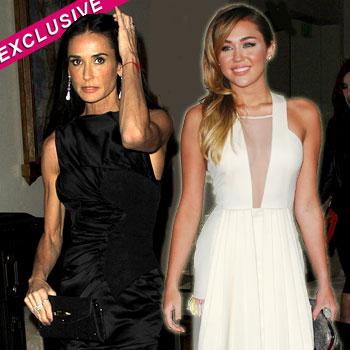 Miley Cyrus has weighed in on the Demi Moore controversy and taken to her Facebook page to show her support.
"Everyone needs to leave Demi alone," she wrote. "She's been through so much the past year. She doesn't need the crap. How can you talk crap on someone you don't know?"
As RadarOnline.com reported, Moore has checked into Cirque Lodge rehab center in Utah and for treatment of anorexia and prescription and club drug abuse.
Article continues below advertisement
But Cyrus is adamant Moore's troubles have nothing to do with illegal substances.
"The media makes everyone in Hollywood seem "weak," "stupid," or "unbalanced" ...Just because she's in Hollywood doesn't mean she's on drugs. NOT EVERYONE IS ON DRUGS!!!
"Put yourself in her shoes. How are you supposed to hold up while everyone in the world is so naïve and they believe everything the media says? Almost her entire life has been in the public eye."