Exclusive
Was Demi Moore Smoking K2 Spice Before Seizure? Drug Expert Weighs In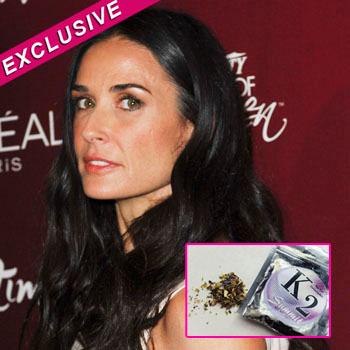 Article continues below advertisement
Demi Moore 911 Call: 'She's Convulsing' And 'She Smoked Something'
A likely possibility is that Demi was smoking K2 Spice, a "currently legal herbal incense product spiked with powerful designer drugs" that don't show up in tests, according to WebMD.
RadarOnline.com spoke with addictions specialist Dr. Phil Dembo, who said judging by the description on the 911 call, he believes Moore was smoking K2 Spice, which is currently legal in the U.S. but under investigation by the Drug Enforcement Agency.
"It sounds like Demi smoked K2 Spice," Dr. Dembo, who has not treated Moore, said. "The problem with synthetics of any kind is they can cause anxiety or depression and cause panic or hyperventilation type of experience. There is racing of your body and those things chemically take you over."
According to Hunterdon Drug Awareness Program, "The terms Spice and K2 refer to commercially available products that have been sprayed with research chemicals called synthetic cannabinoids but do not contain any cannabis (marijuana) components.
Article continues below advertisement
"These synthetic cannabinoids have been associated with impaired driving incidents, attempted suicides, and emergency department visits, and have been linked to such adverse effects as increased anxiety, panic attacks, heart palpitations, respiratory complications, aggression, mood swings, altered perception, and paranoia."
Dr. Dembo said Demi's convulsions could have been a result of smoking the substance.
"One of the things whenever you smoke not a grown substance, you are at the mercy of whatever chemicals are in there. It could be laced with something that could have the opposite effect of what you think it will."
As RadarOnline.com previously reported, Moore was rushed by an ambulance to the hospital following her seizure and is planning to seek help for her health, and will focus on her anorexia problem as well.