Exclusive
Expert: Demi Moore Needs In Patient Treatment For At Least A Month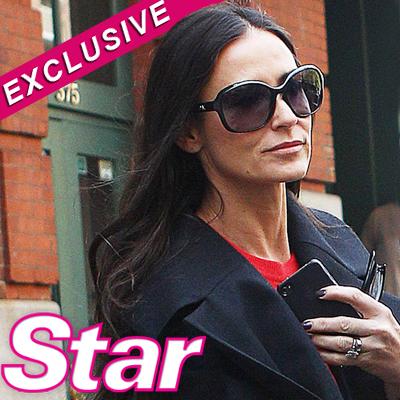 Demi Moore has checked into the exclusive Cirque Lodge rehab treatment center in Utah, and an expert is recommending that she gets treatment for at least a month.
Dr. Carole Lieberman, who does not treat Demi Moore, spoke exclusively to Star magazine about the troubled actress' problems and how she could start to heal.
"The 911 incident could be just the tip of the iceberg if she doesn't get intensive psychiatric treatment," Dr. Lieberman said. "Demi needs to be hospitalized for at least a month to receive psychotherapy and medication, and then continue in out-patient treatment until she can put her love life and career back together."
Article continues below advertisement
Demi hit rock bottom after her six year marriage to Ashton Kutcher ended when he was caught cheating on their wedding anniversary. On January 23, Demi was rushed to the hospital following a party at her home where the 49-year-old Ghost star "smoked something" and then had convulsions.
Dr. Lieberman, media psychiatrist and author of Bad Girls: Why Men Love Them & How Good Girls Can Learn Their Secrets, discussed the trauma in her life that contributed to this emergency situation.
"Demi's meltdown has been triggered by Ashton's cheating, public humiliation and abandonment. She is experiencing the anguish of a Cougar whose cub has used her to climb the ladder of success and then coldly tossed her aside to frolic with the younger women who are now attracted to him.
"But for Demi, it is worse than simply a broken heart. Demi's turbulent childhood and family history of substance abuse, domestic violence and suicide make her much more vulnerable to psychological pain. Ashton is the latest man to reject and abandon her, opening up a floodgate of memories of the first men who did so. Demi was rejected and abandoned while still in the womb by her biological father who deserted her mom, and then by her stepdad who committed suicide."
Article continues below advertisement