Sharon Bialek's Ex Slams Herman Cain's Sexual Harassment Denial, Says They Met 'Many Times'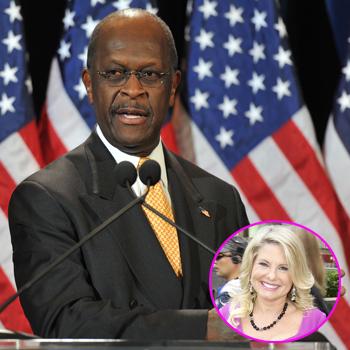 In a stunning development, Sharon Bialek's ex-boyfriend came forward Monday to back up her claim that she was sexually harassed by Republican Presidential hopeful Herman Cain.
Dr. Victor Zuckerman slammed Cain's claim that he has no memory of meeting Bialek, insisting that they attended "several events" together and that she sat next to him at many official dinners.
Zuckerman went on to describe how he was with Bialek when the two of them met Cain at a Chicago restaurant in 1997, and that Cain invited the two of them to an exclusive after party.
Article continues below advertisement
He then said that Bialek went for a private meeting with Cain in Washington a month later, and that when she returned she told him Cain had "touched her in an inappropriate manner."
Zuckerman went on to say that the couple stopped dating a few months after the alleged incident, but they remained close over the years.
He said that Bialek had not gone public with her claim before, as "like many women in the workplace, she quietly endured what she felt was a sexual assault."
The pediatrician said it was his idea for Bialek to contact Gloria Allred after other women's claims of sexual harassment became public, and that they both felt they had to as "now Mr. Cain was running for the most powerful position in the world it is important for people to know."
As RadarOnline.com previously reported, Bialek claims that after she lost her job at the National Restaurant Association, she asked Cain to help her find a new job.
Article continues below advertisement
Bialek went to D.C., where Cain was working at the time, and the two were headed back to her hotel after dinner. She said when they were in the car, Cain pulled over and "suddenly reached over and put his hand on my leg, under my skirt and reached for my genitals."
Bialek also said "He also grabbed my head and pulled it towards his crotch." She said that she asked Cain to stop and he did but when she questioned his actions Cain told her, "You want a job, right?"
During a press conference, Cain vehemently denied the accusations, saying that he has never met Bialek and that he would take a lie detector test to prove he is telling the truth, but he had a caveat -- "I'm not going to do that unless I have a good reason to do so," he said.
"I have never acted inappropriately with anyone," the republican presidential hopeful said. "Period. I saw Ms. Allred and her client yesterday in that news conference for the very first time."
Article continues below advertisement
He claimed that his first thought while watching the news conference was "I don't even know who this woman is.
"I tried to remember if I recognized her and I didn't. I tried to remember if I remembered that name and I didn't."
Three other women have accused Cain of sexual harassment. Bialek is steadfast that she won't be filing a lawsuit against the presidential hopeful.
RELATED STORIES: