Brad Who? Jennifer Aniston & Justin Theroux Are All Smiles In The City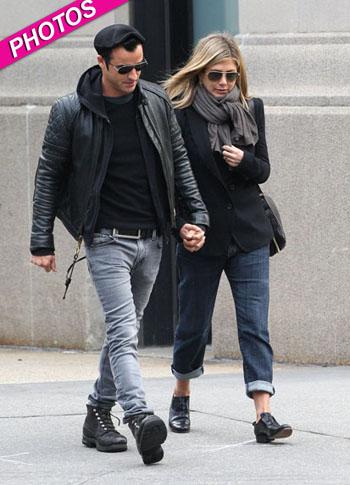 The day after Brad Pitt's shocking interview hit the web, where he talked about trying to pretend his marriage to Jennifer Aniston "was something that it wasn't," his ex-wife hit the streets of NYC with a smile splashed across her face and her new boyfriend Justin Theroux on her arm – and RadarOnline.com has the photos.
Jennifer and her Wanderlust costar, who remained mum regarding his relationship with the former Friend in this month's GQ Magazine, wore matching a la mode (shades of black and grey, of course!) as they hit West Village Japanese Brasserie EN Shochu Bar for lunch.
Article continues below advertisement
Last weekend, Justin accompanied Jen to the hospital, where her mother Nancy Dow was recovering from a stroke.
Pitt's camp went into damage control mode after the interview hit, issuing a statement to RadarOnline.com on behalf of Pitt, insisting that his comments had been misconstrued.
"It grieves me that this was interpreted this way," the Se7en star said. "Jen is an incredibly giving, loving, and hilarious woman who remains my friend. It is an important relationship I value greatly.
"The point I was trying to make is not that Jen was dull, but that I was becoming dull to myself – and that, I am responsible for."
Pitt made the controversial comments in this weekend's edition of Parade magazine, saying: "I spent the '90s trying to hide out, trying to duck the full celebrity cacophony ... I started to get sick of myself sitting on a couch, holding a joint, hiding out. It started feeling pathetic. It became very clear to me that I was intent on trying to find a movie about an interesting life, but I wasn't living an interesting life myself.
Article continues below advertisement
"I think that my marriage to actress Jennifer Aniston had something to do with it. Trying to pretend the marriage was something that it wasn't."
Brad famously left Aniston in 2005 after four years of marriage to be with his Mr. & Mrs. Smith co-star, and current partner, Angelina Jolie.
Of her he gushed: "I'm satisfied with making true choices and finding the woman I love, Angie, and building a family that I love so much. A family is a risky venture, because the greater the love, the greater the loss. … That's the trade-off. But I'll take it all. One of the greatest, smartest things I ever did was give my kids Angie as their mom. She is such a great mom. Oh, man, I'm so happy to have her."