Exclusive
EXCLUSIVE: Charlie Sheen's Porn Star Pal Left Suicidal Message Before Booze & Pill Cocktail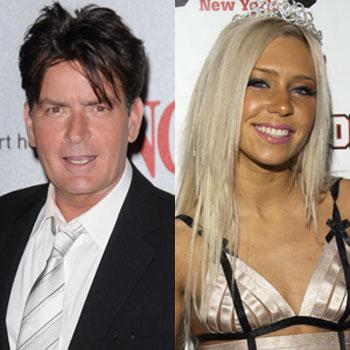 Kacey Jordan, the adult film star who allegedly partied with Charlie Sheen back in January right before he was hospitalized, left a suicidal voice message on the phone of her rep on Saturday night, RadarOnline.com has exclusively learned.
Chicago police found Jordan, real name Courtney Roskop, at the Peninsula Hotel Monday night after she tweeted several suicidal messages claiming she had taken a number of pills with alcohol and was waiting to die.
Article continues below advertisement
Jordan's rep, Kevin Blatt, told RadarOnline.com: "I got a call Saturday night from Kacey and missed it. She left a message saying she was suicidal and she wasn't happy."
Blatt said he attempted to reach Jordan but was unable to.
"I got a little worried," Blatt said.
"I waited 10 minutes and then finally called the Peninsula Hotel and asked them to run up to her room and do a wellness check. They got up there and said she was fine."
Blatt said that he spoke with her on Sunday and while she didn't sound quite right, she expressed anger at him for causing a scene with the hotel staff.
"She got mad at me for calling the hotel and dispatching a wellness check, but she promised me she was fine," Blatt said.
"I talked to her on Sunday and she sounded out of it, but again promised me that she was okay.
"I told her to just lay low and not do anything crazy because I'd be off the grid Monday and then I hear about this and she's in the hospital."
Article continues below advertisement
RadarOnline.com has learned the XXX star is still being treated at Northwestern Memorial Hospital on Tuesday afternoon where she is undergoing a mental evaluation.
"I can't get any information," Blatt said.
"I haven't talked to her yet and the hospital won't give me information because I'm not family.
"I wish her the best and I'm happy she's alive," Blatt added, saying: "Hopefully she's going to take some time to address some of these issues."
MUGSHOT: What A Mug! Kacey Jordan Star Poses For The Cops
Police found the 22-year-old porn star sitting on her bed surrounded by broken glass, prescription bottles and alcohol all over her room.
She reportedly had cuts and scrapes on her wrists and arms.
Jordan reportedly told authorities that the suicide tweets were just a publicity stunt, but then tried to run out of the room and cut herself with a corkscrew.
Article continues below advertisement