Charlie Sheen Porn Star Kacey Jordan Hospitalized After Mixing Booze And Pills, Mentions Actor In Tweets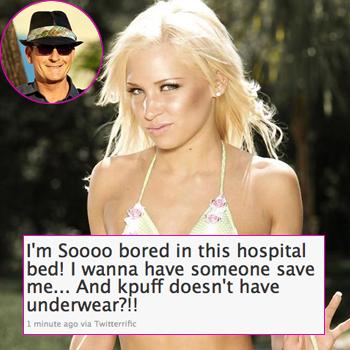 Kacey Jordan, the XXX star who was with Charlie Sheen during his late January party that left him hospitalized, is in the hospital herself after mixing pills and alcohol, and sending out a series of alarming tweets.
The porn star, whose real name is Courtney Roskop, was being treated at Chicago's Northwestern Memorial Hospital, a source told RadarOnline.com Tuesday.
She tweeted early Monday, "i just snorted a fat line and i get a wake up call for my pedicure spa appointment in 15 min.... this is going to be a great conversation!" later tweeting "Calm down guys... If Charlie can admit to banging 7 gram rocks I can admit to a line... Sheesh I like it better than coffee!"
Article continues below advertisement
Jordan later tweeted, "Ready to drink another mimosa, rock some other s***...then pass out ... i've over done it... the more i do...i keep passing out... i just pray i wake up each time ... shouldn't i be all awake... i keep fainting. i guess i'll have to do more and see what that does."
Jordan also tweeted: "i appreciate ur concern (hotel security raiding my room) b) i'm fine c) i have a family to live for... i'm not trying to kill myself" before declaring, "i took a bunch of pills...drank a hotel size bottle of jack... stumbled to the bathroom to weigh myself.........86 lbs."
She wrote, "i think this is funny... i always pull dumb crap like this... i will be better in no time xoxo."
Jordan mentioned the Two and a Half Men star in a later tweet, saying "those 16 hours i was with charlie sheen... messed me up... i can't get that image out of my head... i think i keep trying to feel his pain"
She tweeted early Tuesday: "I'm Soooo bored in this hospital bed! I wanna have someone save me... And kpuff doesn't have underwear?!!"
Article continues below advertisement
EXCLUSIVE: What A Mug! Charlie Sheen's New Porn Star Poses For The Cops
As RadarOnline.com previously reported, the 22-year-old adult entertainer hooked up with the troubled 45-year-old Two and a Half Men star during a January coke and booze-fuelled romp that culminated in a trip to the ER and a subsequent at-home rehab stint.
She told us exclusively last month that she had an abortion, which could have possibly been Sheen's unborn child.
"I had the abortion last Thursday, I went home to Oregon to have it because that is where I grew up. I was sick and on the couch all day," Jordan, who has already terminated three previous pregnancies, told us in February. "I think it might have been too soon to be Charlie's baby, but you never know. I get pregnant very easily.
"Charlie and I tried to use protection ... I kept having to put it on again. I don't want people to think I just had sex with him and didn't try to use one. A week earlier I had been with another celebrity, so it could of been his, but I can't talk about him because I had to sign a release."
Article continues below advertisement