Exclusive
EXCLUSIVE: Charlie Sheen Alleged Stalker Pleads Not Guilty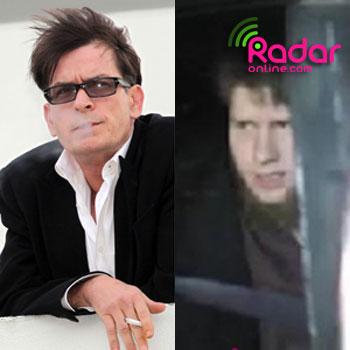 Charlie Sheen was the victim of an alleged "crazed stalker" last Thursday night who scaled the fence of his multi-million dollar Mulholland Estates mansion and the man appeared in court on charges of trespassing Monday, where RadarOnline.com learned he pled not guilty.
The accused trespasser, identified as 26-year-old David Pack of Kansas City, appeared in a Van Nuys, California courthouse where his public defender pled not guilty for him, after the commissioner deemed Pack too mentally unstable to make his own plea.
Article continues below advertisement
"I would like to leave your state," Pack first said from behind glass, dressed completely in black and with the same scruffy beard and hair as when captured on video in the back of the police car by RadarOnline.com.
"I want to make a plea bargain. I would like to speak for myself right now."
EXCLUSIVE POLICE DOCUMENT: Read David Pack's Booking Report
Commissioner Thomas E. Grodin firmly told Pack, "No. You're going to do it my way or you are going to be back in the lock up."
According to sources present at the hearing, it became clear that Pack was in no mental state to speak for himself and was given a 10-minute break before coming back, at which time the commissioner again asked him if he was ready to plead guilty.
"Guilty for what? Where was there any bargaining? I want to go home to my family," Pack said.
Pack's public defender eventually pled not guilty for him, and he is being held on $50,000 bail at the Van Nuys Jail after being handcuffed and arrested for trespassing in the early hours of Friday morning.
Article continues below advertisement
The Kansas City local drove half way across the country, making his way onto Sheen's property, to show his support for the fired Two and a Half Men actor – but had no family members present in court on Monday.
The alleged trespassing came as a dramatic twist in Sheen's night, who already had LAPD raid his house just an hour earlier looking for weapons as part of an investigation into a possible violation of a restraining order put on him by estranged wife Brooke Mueller.
Article continues below advertisement