Exclusive
EXCLUSIVE DETAILS: Charlie Sheen Partied With Porn Star Kacey Jordan Before Hospitalization -- She Tweets Racy Photo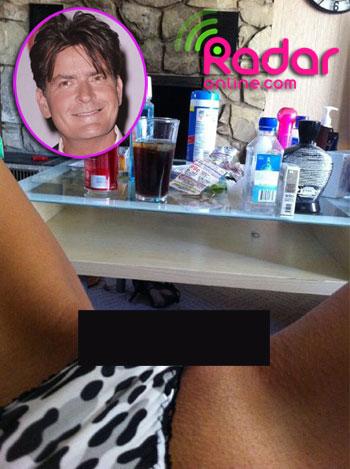 One of the porn stars Charlie Sheen partied with before he was rushed to hospital was Kacey Jordan, RadarOnline.com has confirmed.
Thursday afternoon she Tweeted: "My phones are ringing off the hook! ugh!"
Jordan, 22, was at Sheen's mansion on Wednesday afternoon when she Tweeted a risqué photo, wearing a barely-there bikini.
In the image, Jordan can be seen sitting in front of a coffee table which has an interesting ensemble of objects including a can of Coca-Cola, Fiji water, mouthwash, Lysol wipes, Marlboro Light cigarettes, keys, rings and various lotions and oils.
Article continues below advertisement
There's also a random pink object which appears to be a sex toy.
As RadarOnline.com first reported, the Two and a Half Men star ran up a $26,000 prostitute tab one weekend in early January.
The hard-partying star, whose life has spun out of control the past few months after throwing a fit in a restaurant and then trashing a New York hotel room with a prostitute, has been on drug-fueled bender all throughout January.