Exclusive
EXCLUSIVE: Fantasia Insists She's Not Pregnant; Told To Gain 45 Pounds For Movie Role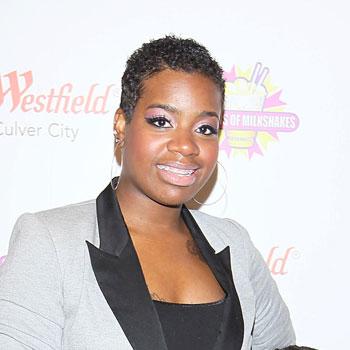 American Idol winner Fantasia Barrino is putting a stop to pregnancy rumors, but she does admit to gaining weight, saying it's for a role in a new film she'll be starring in.
"Fantasia is 100% not pregnant. The only thing she's pregnant with is prosperity," the 26-year-old's manager, Brian Dickens, told RadarOnline.com in an exclusive interview.
"In fact, she's just signed on to play the lead in Mahalia and has been told to gain 30 to 45 pounds for the role."
Article continues below advertisement
Fantasia will be playing Mahalia Jackson, who was one of the most influential gospel singers in the world, known as 'The Queen of Gospel.'
As RadarOnline.com was first to report, a North Carolina court found in favor of Barrino during a trial in which it was determined her boyfriend, Antwaun Cook, was legally separated from his wife, Paula, at the time she started a relationship with him.
It was during the court hearings that RadarOnline.com learned the explosive news that Fantasia admitted she'd been pregnant with her married lover's baby and had an abortion.
After pushing from Paula's lawyer on whether or not it was true that she'd had an abortion, Fantasia finally broke on the stand and said, "I did, yeah."
Although she maintained that she didn't know Antwaun was married and living with his wife at the time they started dating.
However, in email correspondence between Antwaun and Fantasia obtained by RadarOnline.com, it's clear she was aware that he was still living with his then-wife, Paula Cook.
Article continues below advertisement
"You going back home really did it for me. I'm sorry," Fantasia wrote in an email to Antwaun dated April 16, 2010.
"How do think I Feel? When your still staying over there... But you telling me you want to be with me..."
EXCLUSIVE AUDIO: Fantasia Admits In Court She Aborted Married Lover's Child -- Listen To It Here
Since getting her big break on American Idol in 2004, Fantasia has dabbled in acting with a reality-TV show, a Lifetime movie and earned rave reviews for her role in Broadway's The Color Purple.