Exclusive
EXCLUSIVE: Fantasia's Secret Emails To Married Lover: 'I Need You!' -- Read Them Here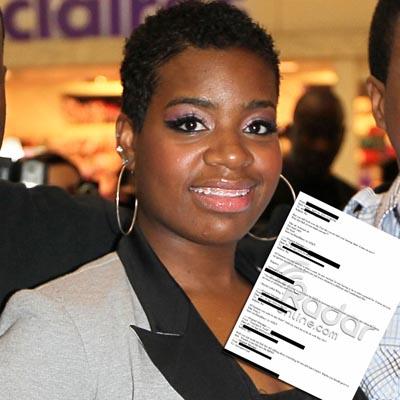 American Idol alum Fantasia Barrino knew her boyfriend Antwaun Cook was still living with his wife when they started dating and RadarOnline.com has the exclusive email exchange to prove it.
EXCLUSIVE DOCUMENT: Fantasia Knew Boyfriend Was Married -- Read The Email
"You going back home really did it for me. I'm sorry," Fantasia wrote in an email to Antwaun dated April 16, 2010.
"How do think I Feel? When your still staying over there... But you telling me you want to Be with me..."
Article continues below advertisement
"I lied....I Need U!!!!! Antwaun...How do think I Feel?" Fantasia wrote to Antwaun.
During Fantasia's testimony in court, the single mother of one admitted she aborted the child of her married lover around the same time as her failed suicide attempt in August, 2010.
In the email chain obtained by RadarOnline.com, Fantasia seems to want Antwaun to move out and might have been trying to make him jealous over another man.
Article continues below advertisement
"Well you just made me feel like sh*t talking about everything he was and that I wasn't. Maybe you should give it a shot," Antwaun wrote.
"Sounds to me like he's the KING!"
"All because you want to stay there? And you want me to be ok with that. Ok!!" Fantasia responded.
"Man F*ck it."
"All because you just said he is what u need, he aint married, he aint having it, he is what u prayed for. I never put you up against anyone in that way," Antwaun wrote back just three minutes later.