PHOTOS: Charlie Sheen's Porn Star Girlfriends -- See Them In All Their Glory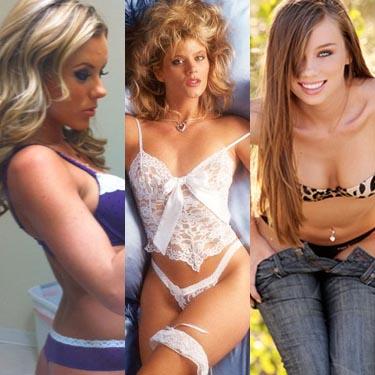 Hard-partying playboy Charlie Sheen certainly has a type when it comes to the ladies in his life, so RadarOnline.com is giving you a look through the porn star girlfriends the actor has dated.
The Two and a Half Men star's latest tryst was with 23-year-old Bree Olson, who describes "older dominant males" as "what gets me off" on her official adult website.
Not only did the buxom blonde spend time with Sheen while the two were in Las Vegas over the weekend for the AVN awards - it's more serious than that.
Article continues below advertisement
As RadarOnline.com previously reported, the 45-year-old actor took a private jet to Fort Wayne, Indiana just after Christmas to spend time with Olson in her hometown.
Olson is a self-described bisexual who enjoys sex with strangers.
Moving on, Sheen was cleared by the New York Police Department in December after porn star Capri Anderson lodged a criminal complaint against him after a night of partying together went awry.
Anderson - real name Christina Walsh - said Sheen held her against her will in a hotel room on October 25 after he flipped out, shouted racial slurs and snorted a white powder, before being found drunk and naked by medical personnel who took him to the hospital and placed him under a mental health check.
According to Anderson, Sheen hired her for what she characterized as an "appearance fee," but ultimately turned into a wild dinner at Danielle and an even wilder time at the Plaza hotel after Sheen smoked cocaine and flipped out.
Article continues below advertisement
As RadarOnline.com was first to report, Sheen's ex-wife Denise Richards was in New York with him at the time and Anderson told her she was a prostitute who charges $3,500 per night.
The 22-year-old has starred in a number of adult films including Big Bust Cougars, Damn, She's a Lesbian, Me & My Girlfriends, Amateur Angels 22, Barely 18: Spring Break and Lesbian Tendencies.
Perhaps one of Sheen's most high-profile affairs with a porn star was back in the 1990s when he had a long-term relationship with former adult film star, Ginger Lynn.
Lynn was prominent in the industry during the 80s and AVN ranked her as #7 on their list of top 50 greatest porn stars of all time, and is known for sticking by Sheen's side while he went through drug rehabilitation.
In 2004 - years after their breakup - Lynn decided to auction off a pearl necklace and earrings on eBay that the actor had given her during their relationship, purging herself of things that "no longer hold the value in my heart they used to."
Article continues below advertisement