Exclusive
VIDEO: Charlie Sheen's Story - I Hired A Hooker, But Not For Sex; Plus Read His Text Messages Here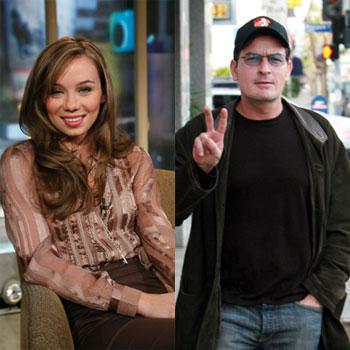 Charlie Sheen's attorney Yale Galanter told Good Morning America Tuesday that porn star Capri Anderson was not hired for sex by the Two and a Half Men star, and that Anderson will fail in her attempts of "a complete shakedown on one of the best actors on the planet."
Watch the video on RadarOnline.com
Sheen Monday filed a lawsuit against Anderson, whose real name is Christina Walsh. In the suit, the highest-paid actor on TV claimed the XXX star demanded $1 million from him to keep quiet about his meltdown in a room at New York City's Plaza Hotel last month, and that she stole a watch valued at more than $165,000 from his hotel room the night of the incident.
Article continues below advertisement
DOCUMENTS: Read Charlie Sheen's Lawsuit Against Porn Star
Galanter said that Anderson and her legal team told Sheen if he did not pay up, "They would go to Good Morning America and tell the lies and fabrications they told yesterday on your air." (The show stated they did not give Anderson any money for the interview, which was broadcast Monday.)
"If we did not write them a check," Galanter said, "they would go and they would lie about what happened in the Plaza Hotel room."
Galanter blew off Anderson's claims the star had offered her $20,000 in "hush money" via a text message, saying that Anderson and her legal team is essentially bluffing about the content of said message, as they "wouldn't show Good Morning America producers the text, message or email or whatever they had."
Galanter said Anderson and Sheen had corresponded about other issues the porn star had regarding the exchange: that she wasn't paid for companionship, and wanted to be reimbursed for a purse and dress she wore that night that she claimed was destroyed in the fracas.
Article continues below advertisement
Galanter said Anderson "wasn't hired for sex, she was hired to be the entertainment for the evening ... there was never a sexual encounter .. there was never money exchanged for sexual acts."
"The reason she wanted to get out of that hotel room was that she had Charlie's watch hidden on her, and she just doesn't want to get caught," he said.
Anderson is slated to meet with the Manhattan District Attorney Tuesday; asked about the chances of a settlement between Sheen and Anderson, Galanter said he was confident the authorities in New York would suss out Anderson's "pack of lies" in her attempts to extort "one of the best actors on the planet."