Exclusive
EXCLUSIVE PHOTOS: Inside Teen Mom Amber Portwood's Photo Album -- Before Fame, Fortune & Scandal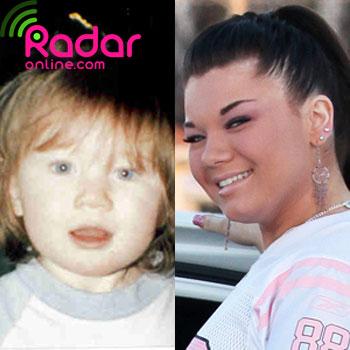 Before she was a Teen Mom and getting in a fight with her baby daddy on national TV that landed her in jail, Amber Portwood was a cute little girl and RadarOnline.com has the exclusive photos from her childhood.
In these never-before-seen snapshots, Amber looks too cute for words as she celebrates her 5th birthday with her family, eating at McDonalds and posing for pictures with cousins.
The controversial 20-year-old grew up in Anderson, Indiana with her parents Tonya and Shawn, her brother Shawn and her weenie dog Max.
Article continues below advertisement
An adorable little child, and looking similar to her little daughter Leah, Amber posed with her family on Thanksgiving in one of the photos and with one of her cousins in another.
These happy family photos don't give a hint of the troubled times Amber would face as she grew up. After her televised beating of boyfriend and baby daddy Gary Shirley, Amber has come under the supervision of the Indiana Department of Child Protective Services and even briefly had Leah takenaway from her and made a ward of the state.
A childhood friend of Amber's told RadarOnline.com about her happy childhood and the person she was before she shot to fame.
"Amber has always had a fun-loving personality and had so many friends that she always stuck up for and was always loyal to," the source says. "She made a lot of friends because she talked to everyone and never thought she was better than anyone else."
RELATED STORIES:
EXCLUSIVE: Teen Mom Amber Portwood Dumps Boyfriend, His Brother Picks Fight With Her Ex Gary