EXCLUSIVE DOCUMENTS: David Beckham Breaks Silence On Hooker Scandal: 'I Never Met Or Paid Her For Sex'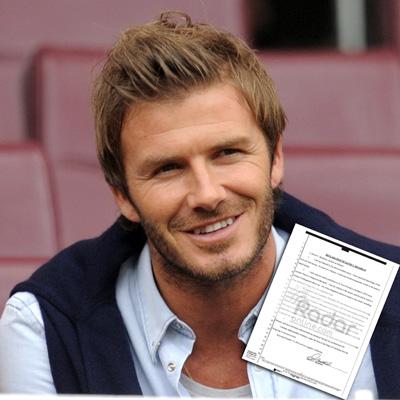 David Beckham has spoken for the first time about a prostitute's seedy sex claim that he had a threesome with her and another hooker, emphatically declaring: "I have never met (Imra) Nici, let alone committed adultery with Nici or paid her for sex!"
EXCLUSIVE DOCUMENTS: Read David Beckham's Official Declaration
The soccer superstar -- married to Posh Spice Victoria -- has filed a declaration to a Los Angeles court in his $25 million fight against the Bosnian-born prostitute and German-owned US magazine InTouch, RadarOnline.com has learned.
Article continues below advertisement
They're the first words directly from the former England soccer captain after Nici, 26, peddled the story that she had a series of sex romps him for $10,000 cash in London and New York in 2007.
"All of the allegations about me made in the article, including those attributed to Irma Nici, are completely false," Beckham, 35, wrote in the explosive hand-signed document, obtained exclusively by RadarOnline.com.
"Irma Nici's statements have caused me and my family great anguish and emotional distress and have adversly affected both my personal life and my professional life."
The LA Galaxy star added: "Nici has fabricated at least the following facts about me: (i) that in August 2007, I committed adultery with Nici and another prostitute by paying for sex with the two of them at Manhattan's Le Parker Meridian Hotel; (ii) that about a month later, I again committed adultery with Nici at the Claridges Hotel in London; (iii) that in October 2007, I contacted Nici while I was in New York seeking to again commit adultery, but Nici was in London; and (iv) that Nici has had sex with me five times in total. Each of these statements is unequivocally false."
Article continues below advertisement
Nici -- who has been unable to present any proof that she bedded the dad of three -- is counter-suing him for a million dollars, claiming he caused her "emotional and physical pain and distress".
She alleges a writ server hired by Beckham's legal team chased and harassed her so severely she ended up in a hospital cardiac unit suffering intense chest pains.
But Beckham isn't letting up as he wages war on the prostitute.
In another court filing, Beckham is seeking permission to conduct discovery in response to the mag's motion to strike the case, as RadarOnline.com first reported.
Read the document here.
If granted, the discovery would include depositions of Nici and In Touch's editors -- setting the scene for a face-off between Beckham and Nici.
"Without this evidence... Beckham would be severely prejudiced in opposing the anti-SLAPP (strategic lawsuit against public participation) motion and demonstrating Bauer's willful blindness to the falsity of Nici's story and Bauer's malicious intentions to publish a salacious story about Beckham to sell magazines," his lawyer told court.
MORE ON:
Celebrity Justice
Article continues below advertisement
In its defense, Bauer is claiming Beckham shouldn't be allowed to "embark on a proverbial fishing expedition in the vain hope that somehow, somewhere, he will find evidence that Bauer knew its story was false or had serious doubts about the story."
"Beckham and Nici both know the truth and to be sure one of them is lying, to use Beckham's word. Who that is, and who is telling the truth, is not before the court in the pending motion," the publisher argued in the filing.
As RadarOnline.com revealed, Bauer had made even more the seedy allegations against the blonde superstar, under the privilege of court papers.
COURT DOCUMENTS: Beckham Complaint
In papers filed in November, the publisher said it suspected Beckham carried on an affair with a Los Angeles-based lingerie saleswoman and would secretly meet her at the Figueroa Hotel near Staples Center after LA Lakers basketball games.
Article continues below advertisement