Exclusive
EXCLUSIVE COURT DOCUMENTS: Husband Of David Beckham Sex Slur Woman Tells - 'I Believe She Had An Affair'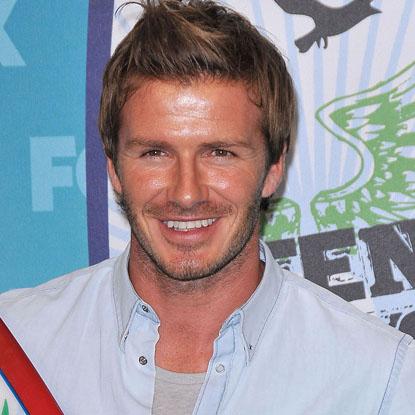 Joseph Shabani, the man who supposedly tried to ram David Beckham off the road after claiming the soccer superstar had a fling with his wife, is speaking out for the first time and declaring: "I believe she had an affair."
EXCLUSIVE COURT DOCUMENTS: Read the Declaration
Shery Shabani, a Beverly Hills mother-of-two claimed Joseph, also known as Kambiz, tried to run Becks off the road outside their children's school after wrongly accusing the pair of having an illicit tryst.
Article continues below advertisement
In a declaration to a Los Angeles court, in response to his soon-to-be ex-wife explosive charge, Joseph wrote: "Petitioner (Shery) and I have been experiencing marital troubles for many months, due to my belief that Petitioner (Shery) has had an affair."
He did not name Beckham in the court filing.
However, the sex slur against the embattled L.A. Galaxy star, already fighting allegations of a threesome with two hookers, emerged after Shery herself named Becks, 35, in her divorce filing from Joseph, her husband of 12 years.
Shery denied the affair, claiming the allegation was part of her husband's "delusional thought process".
In her original declaration to court, Shery alleged Joseph told the couple's children, Taylor, 10, and Tye, 7, how their mother had cheated on their father.
He also made "degrading statements" to her, about the supposed affair with the former England soccer captain, she alleged.
But Joseph, in his court response, insisted: "I did not accuse Petitioner of having an affair while the children were in the room.
Article continues below advertisement
The millionaire real estate lawyer added, "Moreover, at no time were our children in the room when she and I argued, especially when I spoke to her about her affair.
"In fact, I was particularly careful not to bring up the subject at any time within the children's earshot, so that they would not be harmed by being privy to these adult conversations."
In his court filing, Joseph also claimed:
Shery was attempting to "instigate an argument or fight" on the night when police were called to their house, to "create a situation whereby she could call the police and/or find a way to have me kicked out of the house";
Her decision not to sign refinancing papers of their home was a "calculated... attempt to manipulate my emotions and provoke me";
Shery misled him by the suggestion that "she wanted to reconcile (their marriage)";
Had already engaged a lawyer to proceed with a divorce; and
Withdrew $10,000 and received a $50,000 payment in the days before their split, because she "wanted to have some money in advance" before seeking the divorce.
"This has... been very sad and upsetting to me," Joseph admitted, to the court.
According to Shery, in the documents filed on August 18 with Los Angeles County Superior Court, "(Joseph) has accused me of having extra-marital affairs, most often with David Beckham (which is untrue)."
"On my most recent birthday, in front of the children, he yelled at me: "I know why you're upset, it's your birthday and you didn't get a text message from David Beckham!"
Her husband allegedly screamed: "Why don't you ask him to send you a picture of his c*ck for your birthday you whore!"
Article continues below advertisement
In another instance, Shery claimed, Joseph "shoved" her during a fight over their finances at their $12 million 13,000 square feet Beverly Hills mansion.
When cops arrived to the scene, Joseph told the officers that his wife had "f*cked David Beckham" and "inexplicably demanded that the officers include his statement in their report" so that he could in turn leak it to the media, she alleged in court.
But Joseph insisted, in court papers: "At no time did I shove, strike or otherwise physically harm Petitioner (Shery). There was no physical contact between Petitioner and me during our argument, as Petitioner alleges."
He also denied threatening to kill her or strike his one-time lover.
EXCLUSIVE COURT DOCUMENTS: David Beckham Caught Up In Affair Allegations With Victoria's Pal
Joseph even alleged Shery's mother and father had both grabbed his neck and attempted to strangle him.
Article continues below advertisement
He said Shery was making her own "false claims" to have him "removed from the house, marginalize my time with our children and obtain leverage against me in our dissolution action".
Shery's stunning claims were part of her court bid to gain full custody of their children and gain a restraining order against Joseph.
But as RadarOnline.com revealed, the pair suddenly settled Monday, "freely and voluntarily", according to the court's minute order, after a series of closed-door hearings before Los Angeles judge Amy M. Pellman.