Victoria Beckham Calls Hubby David Beckham 'Godda**n Perfect'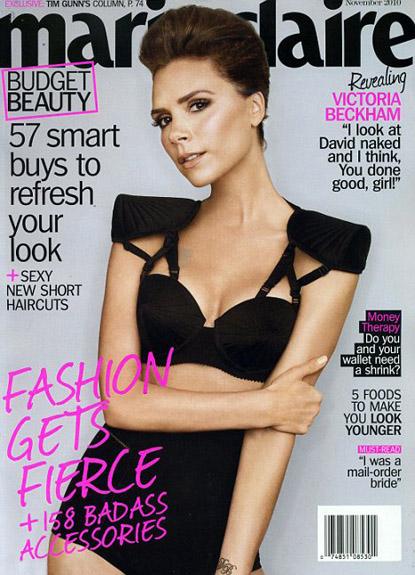 Their superstar marriage maybe under the media spotlight right now, but Victoria Beckham claims her famous soccer husband David Beckham is "Godda**n perfect" in a new magazine interview, RadarOnline.com is reporting.
In the November, 2010 edition of Marie Claire Magazine, Victoria Beckham -- who poses in black slinky a corset on the cover -- gushes over her husband and dismisses any talk of a rift by saying, "We're still so close".
Article continues below advertisement
Victoria Beckham tells Marie Claire Magazine: "We were about to go out somewhere the other day, and he was sending an e-mail. He was sitting at the end of the bed, and he had no clothes on whatsoever.
"I was getting out of the shower, and I just stood there looking at him. He was all tan.
"Has all those tattoos, which I love. Hadn't done his hair. He just naturally looks good all the time."
"He never looks like s*** in the morning. Never - so he's sitting there sending his e-mails, all ripped. Not an ounce of fat on him.
"And I thought, you done good, girl. I sure wasn't thinking of his high-pitched voice."
David and Victoria Beckham wed in July 1999. They have three children Brooklyn, 11, Romeo, eight, and four-year-old Cruz and currently live in Los Angeles, California.
And after 11 years together former Spice Girls star tells Marie Claire Magazine that the pair are "soul mates".
She added: "We were at a party the other day at my mum's house and I was sitting on his lap. We're very affectionate.
Article continues below advertisement