Exclusive
EXCLUSIVE: Former Employee In Legal Battle With Tila Tequila Produces Card He Says Proves Romance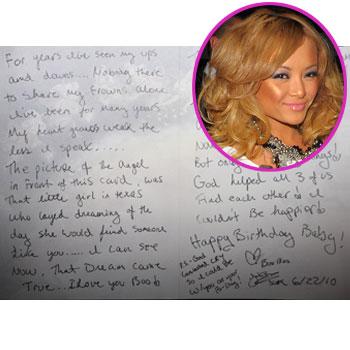 A former employee of Tila Tequila who is entangled in a legal battle filled with wild accusations has produced a romantic birthday card that he says she sent to him. If legitimate, the card would prove Garry Sun's claims that he was romantically involved with Tila, which would make their ongoing legal battle even more bizarre.
Tila has denied being in a romantic relationship with Sun, a former employee. Sun accused Tila of trying to kidnap his girlfriend. He attempted to file a restraining order against her but it has not been signed off by a judge. Tila then was granted a restraining order against Sun.
Article continues below advertisement
PHOTO: See Tila's Lovey Birthday Card To Garry Sun
"The picture of the angel in front of this card, was that little girl in Texas who layed sic dreaming of the day she would find someone like you," the card reads inside. Sun says Tila wrote those words. The card, obtained exclusively by RadarOnline.com, is dated June 22, 2010.
The card also says: "We all found each other now. No more worries, but only new beginnings! God helped all 3 of us find each other and I couldn't be happier!" ("All 3 of us" refers to Tila, Garry and Tila's dog Onyx.)
Sun accused Tila of kidnapping his girlfriend Shyla Jennings from her Texas home, holding her at gunpoint and threatening extortion.
Tila shot back by refuting all the accusations telling RadarOnline.com, "Garry Sun is a highly dangerous paparazzi who tried to hurt me and make highly false allegations against me."
Sun claims that he not only worked for Tila, but that the two were in a relationship at one point – a claim that Tila has adamantly denied. But now he has produced this romantic card and it has become a new battleground, with Sun claiming it is from Tila, and Tila telling RadarOnline.com it is fake.
Article continues below advertisement
"I refuse to let a pathological liar destroy my name…I will continue to release further proof of her lies and desires to destroy the lives of others," Sun told RadarOnline.com in an exclusive interview.
"I am not anything she claims I am and anybody who has dealt with this soulless individual knows she is incredibly dangerous."
Tila has equally strong negative feelings about Sun. "I hope that he will never work in this town again so that he won't be able to do this to other celebrities or anyone else for that matter!" Tila told RadarOnline.com.