Exclusive
EXCLUSIVE: Oksana's Controversial Bodyguard Once Claimed Tila Tequila Was Pregnant With His Baby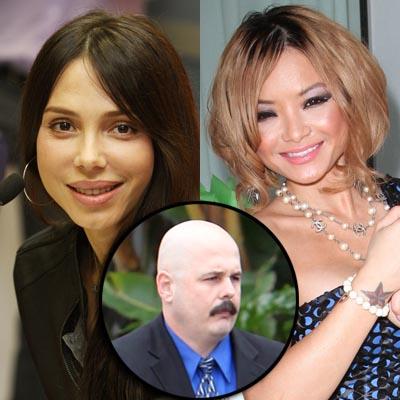 The bodyguard who claimed to have had a sexual relationship with Oksana Grigorieva made a similar claim about Tila Tequila, and even boasted he got the reality TV star pregnant, RadarOnline.com has exclusively learned.
Kristian Herzog is reportedly telling friends he was "very intimate" with Grigorieva, the single mother-of-two who is embroiled in a bitter court battle with Oscar winner Mel Gibson.
It's a claim he made about clients in the past, according to Tila, who spoke out exclusively to RadarOnline.com.
Article continues below advertisement
"He was trying to sell a story saying that, 'I've been in a relationship with Tila Tequila for months, I'm the baby's father,' and I found out," Tila posted in an audio message on her Web site.
Herzog, a convicted felon who once impersonated a cop with a loaded gun, made Tila very uncomfortable and was inappropriate during his brief stint as her bodyguard, she said.
"He kept me imprisoned in my own home for a week straight and none of my friends were allowed over because he said none of them were trustworthy," Tila told RadarOnline.com.
"Even when I asked him to leave my house because I felt uncomfortable, he wouldn't leave and insisted on staying."
Mirroring the incident with Tila, Herzog claimed he was Grigorieva's boyfriend for months, and said he still communicates with her on a daily basis.
But Oksana's attorney Lisa Bloom insisted to RadarOnline.com: "Oksana and this man did not have a romantic relationship - absolutely not."
Now Tila is suggesting "had people listened to me about him a long time ago, Oksana wouldn't be dealing with this" today.
Article continues below advertisement
As RadarOnline.com previously reported, Herzog released a statement shortly after Tila blasted him for claiming to be her baby's father in which he said:
"We deny that our owner or any member of The Bodyguard Group is the father of Tila's baby, Tila told us the father of her baby is her high school sweetheart, a U.S. Army Combat who served in Afghanistan and now lives in Texas."
Tila adamantly denied Herzog's claims as to the paternity of her unborn child and said he was just trying to get publicity after his claims about being her baby's father failed to make headlines.
"I locked myself in my bedroom for days to avoid him because I was so scared of him," Tila told RadarOnline.com.
"He made really disgusting comments about how sexy I looked and asked me if he could take pictures of me. I was so scared of this guy!
"One time he gave me a taser gun, then took it back and claimed that I stole it from him and owed him $1,600."
"When she told him his services were no longer required, he began making up these stories," Grigorieva's friend told RadarOnline.com.