Exclusive
EXCLUSIVE: Oksana Will Get $200m From Mel, Claimed Bodyguard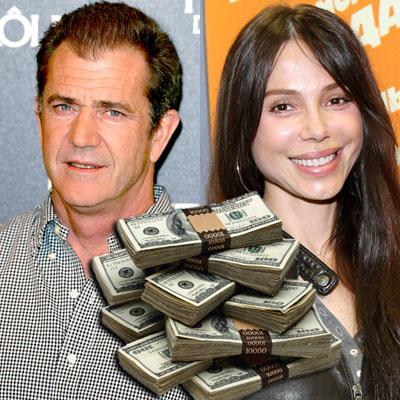 The rogue bodyguard who is alleged to have threatened the life of Mel Gibson's mistress Violet Kowal claimed Oksana Grigorieva would soon be worth $200 million, RadarOnline.com has exclusively learned.
The stunning revelation comes as Grigorieva moves to swiftly to distance herself from the man who threatens to jeopardize her high-stakes legal case against the Lethal Weapon star.
"The man said, 'It would be good to have Oksana on their side because soon she would be worth $200 million dollars'," said a source, with knowledge of the case.
Article continues below advertisement
"He suggested it would be the 'best feeling in the world' to move into a house in Santa Monica with a $100 million check in her pocket.
"Violet thought this to be a clear seducement from the bodyguard, intimating that Oksana would pay her if she cooperated by providing information and intelligence on Mel, from during their affair."
Grigorieva is fighting the Oscar winning actor/director, the father of her nine-month old daughter Lucia, for a slice of his half-million dollar fortune after their bitter split earlier this year.
As RadarOnline.com first revealed, Kowal, the Polish porn star who alleged a steamy three-month affair with Gibson, has spoken to the Los Angeles County Sheriffs Department, alleging the man made threats of violence.
He allegedly threatened to have Kowal and her bodyguard, Nikko Riley, killed by police who he said were in his pocket, it has been claimed.
The bizarre comments were captured on secret audio tapes, RadarOnline.com has learned; those tapes were played to Gibson's criminal defense attorney, Blair Berk, last month.
Article continues below advertisement
Said the source: "This man also claimed to be one of President Obama's personal detail and said if Violet turned over her evidence against Mel, he could personally guarantee Violet would be parachuted into a high-profile movie role by his top Hollywood contacts."
RadarOnline.com has learned Grigorieva immediately contacted the bodyguard on Saturday after learning the potential scandal was set to explode.
The bodyguard reportedly denied to her that he made the treats or inducements, we're told.
In an exclusive statement to RadarOnline.com, Grigorieva protested her innocence and independence from the man, but acknowledged he was "a friend".
"She (Oksana) has no knowledge of the allegations in the article and never told anyone to do anything such as is alleged of her," the Russian musician's rep, Steve Jaffe, told RadarOnline.com.
Article continues below advertisement
"She has no knowledge of what he is alleged to have done, as was reported.
"She said that she has never paid him a penny to help her and that he offered to drive her a couple of times to appointments when the paparazzi was following her."
In a report on Thursday -- more than 14 hours after RadarOnline.com's exclusive revelation -- it was claimed the bodyguard is also being represented by Grigorieva's new attorney, Martin Garbus.