Exclusive
EXCLUSIVE: Shocking New Mel Gibson Audio Tapes Lead To Another Police Report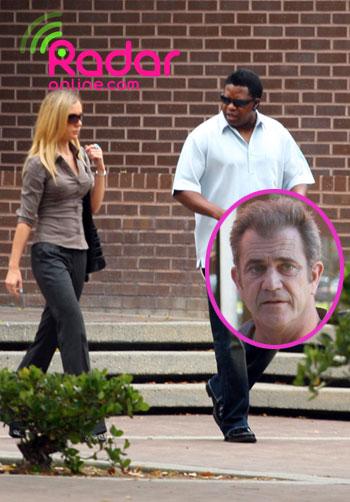 Violet Kowal, the Polish porn star who had an affair with Mel Gibson while Oksana Grigorieva was pregnant, has shocking new audio tapes and has emerged as a witness being courted by the two feuding camps, RadarOnline.com has exclusively learned.
Oksana's audio of Gibson's ranting and threats became a national talking point when obtained exclusively by RadarOnline.com this summer.
And now, Kowal has a controversial new audio tape that directly affects the case.
Article continues below advertisement
Kowal, 26, has spoken to the Los Angeles County Sheriffs Department, alleging that a bodyguard representing Grigorieva made a series of financial seducements to provide evidence against the Lethal Weapon star -- evidence that could support the Russian musician's case.
The man then made threats against Kowal and her bodyguard, Nikko, if the pair didn't cooperate, it is being claimed.
RadarOnline.com photographed Kowal and Nikko going in and out of the Sheriffs Department in West Hollywood.
The latest twist in the Gibson-Grigorieva scandal followed a secret meeting -- which we can now reveal -- that took place last month between Kowal and Gibson's criminal defense attorney Blair Berk.
"At that meeting, Violet played Mel's lawyers a series of taped audio recordings which show how a bodyguard, who identified himself as working for Oksana, made advances to them," said a source, familiar with the situation.
Article continues below advertisement
"The bodyguard offered personal, financial and legal assistance on behalf of Oksana and her team in exchange for information on Mel, from Violet.
"The man claimed Oksana would soon be worth millions of dollars, and it was worth having her on your side."
RadarOnline.com has also learned Oksana's former attorneys Manley Freed, Marci Levine and James Spertus also sought a meeting with Violet to discuss her claims.
But despite their repeated requests, she never met with them.
They've since been replaced by high-powered Hollywood attorney Sorrell Trope.
Kowal has claimed she had a steamy three-month love affair with Mel at his compound in Malibu and Santa Monica office, around the same time as the Oscar winning actor/director's now infamous blowout with Oksana.
"Mel's great in bed," Kowal said, at the time. "It was the best sex I've ever had!"
Article continues below advertisement