Exclusive
EXCLUSIVE: Jesse James Ex-Wife Claims He Won't Let Sunny Go To 'Gammy's' Funeral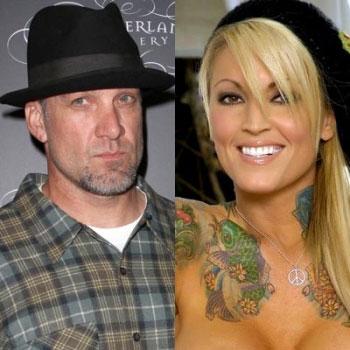 Jesse James is not going to permit his daughter Sunny James to attend the funeral of her great-grandmother 'Gammy' Lindemulder according to Jesse's ex-wife, who's involved in a bitter custody battle with him, RadarOnline.com has exclusively learned.
James' ex-wife Janine Lindemulder had requested to take their six-year-old daughter from Texas to the funeral in Norwalk, California on Friday, but her appeal has apparently fallen on deaf ears.
Article continues below advertisement
Jesse James & Kat Von D Kissing
"Gammy" died last Friday. The Orange County Family Court had earlier ruled that Janine could see her daughter only in 'Gammy's' home after Janine was released from jail.
Janine told RadarOnline: "Gammy and Sunny were close, but Jesse has not replied to our request to take her with me to the funeral in Norwalk.
"She was an amazing lady who lived into her eighties, and at least she got to spend some time with Sunny before she re-located to Texas with her father."
Sandra Bullock Gives Ex Jesse James Texas-Sized Welcome To Austin
Janine says she's not surprised Jesse hasn't responded to her request.
"I'm not surprised because as far as Jesse is concerned, my family is totally irrelevant, and if I were to die tomorrow he would not bat an eyelid."
Janine has still not physically seen Sunny since Jesse moved to Austin, Texas several weeks ago and took their daughter with him. James relocated to Texas after he splashed out $2 million for a mansion close to his ex-wife, Oscar winner Sandra Bullock.
MORE ON:
Janine Lindemulder
Article continues below advertisement
Read Janine Lindemulder's full letter to Kat Von D
In recent weeks, James has started dating celebrity tattoo artist Kat Von D who has also been spending time getting to know Sunny while her biological mom claims she is being shunned.
Both Janine and Jesse are scheduled to return to Orange County Family Court on October 24 with Lindemulder requesting a '730' evaluation plus a modification in visitation and counseling for herself, Sunny and Jesse James.
In July, Commissioner Thomas Schulte ruled that both parents would have joint legal custody of Sunny, but that it was in the child's best interest for her to live in with her dad in Austin.
Janine's lawyer Richard Masson told RadarOnline.com: "It is another unfortunate incident - but we are keeping a note of everything that is going-on ahead of our next court date."
Calls to Jesse James' lawyer were not returned.