Exclusive
EXCLUSIVE: Jesse James' Ex Janine Lindemulder Says Kat Von D Ignored Her Plea Not To Meet Sunny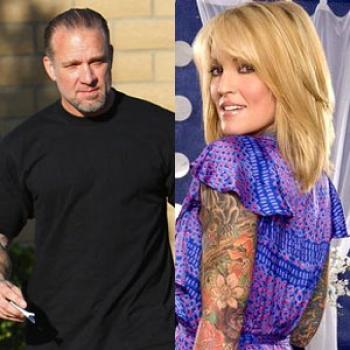 Jesse James' ex-wife Janine Lindemulder is fuming that the biker mogul's new lady love, Kat Von D, apparently ignored a letter she wrote to her, imploring she not meet her 6-year-old daughter Sunny for at least six months.
RadarOnline.com has obtained a copy of Lindemulder's letter, which asked Von D to "reconsider" her desire to meet Sunny.
Lindemulder wrote, "I did some researching last night and the information all of the therapists were giving was the same. And that is a 6 month waiting period minimum prior to meeting children Sunny's age."
Article continues below advertisement
Read Janine Lindemulder's full letter to Kat Von D
It's clear from the letter that Lindemulder was concerned over James introducing another 'mother figure' into Sunny's life, in wake of his highly-publicized divorce from Oscar winning actress Sandra Bullock in late June.
In the letter, Lindemulder also wrote to Von D, "If ever there was a woman suited for 'the long haul' with Jesse, it would be you."
Despite that letter, Lindemulder says Von D has in fact met Sunny, who now lives in Austin, Texas with her dad.
Lindemulder exclusively told RadarOnline.com, "I'm really upset because I know that Kat has met Sunny after I wrote the letter while I'm still being victimized and am being alienated from my daughter by Jesse.
"The whole situation is ridiculous all the while he is parading around Las Vegas and Hollywood with her and I don't know who is looking after my child.
Article continues below advertisement
"I had to contact the police to do a wellness check on her and the school in Austin would not even return my calls.
"Jesse moved down there to win Sandra back and it didn't happen so he rubbed her nose in it by strolling around Austin with Kat.
"The guy is just a total narcissist and he will tire of Kat soon enough, but I am going to fight for rights to have contact with my daughter.
"Jesse is in contempt of court for not allowing me to speak with Sunny and yet his new girlfriend writes on her MySpace page that kids are not for her.
"Which mother would be happy with this situation! Jesse just enjoys being cruel to women but it is our daughter who is really suffering." Meanwhile, Lindemulder says she's heading back to court because James has refused her any contact with Sunny for the past 15 days.
The feuding pair is set for yet another bitter showdown at Orange County Family Court on Tuesday; Lindemulder claims that her ex is trying to alienate her from Sunny.
Article continues below advertisement
AUDIO: Kat Von D Defends Jesse James, Dances Around Romance Rumors
Back in July, Commissioner Thomas Schulte ruled that both parents would have joint legal custody of the girl, but that it was in the child's best interest for her to go with her dad to live in Austin.
Under the terms of the agreement, Lindemulder was supposed to have regular visits and contact with Sunny while she remained in California.