EXCLUSIVE: Jesse James Claims Ex-Wife Threatened To Kidnap Daughter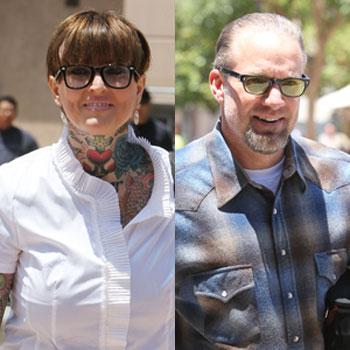 Janine Lindemulder's bitter custody battle with motorcycle mogul Jesse James has erupted in Texas over their daughter Sunny James, RadarOnline.com can reveal.
Lindemulder – who has now re-located to Austin to be closer to her daughter – was furious when she arrived to pick-up Sunny, 6, from her school on Friday only to find-out that she had already been removed by her father.
Article continues below advertisement
James moved his family to the Lone Star State last month after splashing out $2 million on a new mansion which is close to where his third wife Sandra Bullock also owns a home.
Lindemulder says, "It was all arranged for me to pick-up Sunny but at the last minute Jesse's lawyer called my lawyer to tell us that it was not going to happen.
"He claims that I sent an e-mail to Jesse's sister Julie saying that I was going to 'pick Sunny up and that they would never see her again.'
Sandra Bullock Gives Ex Jesse James Texas-Sized Welcome To Austin
Lindemulder claims she did nothing of the sort. "That is totally false and another attempt by Jesse's family to alienate me from seeing my daughter," she says.
"The terms and conditions for me to see Sunny have been set-out by the court until we go back again on October 24, 2010."
And if James thinks Lindemulder is going to just sit back and wait to see her daughter, he is mistaken.
Article continues below advertisement
"I am consulting my lawyer to see what we can do and the police may have to be involved at some stage if that is what it takes for me to see Sunny.
"At the moment I am going to stay with a few friends down here but I intend to do all that I can to make sure I get to re-establish a bond with my daughter once again."
RadarOnline.com recently revealed that James had demanded a paternity test after Sunny was born because he did not believe that he was the father.
Lindemulder claims that when James asked for the test, he made a shocking racist remark, saying: "I was told that you slept with a n***er."
Read Janine Lindemulder's full letter to Kat Von D
James denies he was a racist and was caught in a storm of controversy when a photo surfaced of him giving a Nazi salute while placing two fingers under his nose, simulating Adolph Hitler's moustache.
Lindemulder, who has worked as a porn star, says James also kicked her out late in her pregnancy - the test results later proved that James was Sunny's biological dad.
Article continues below advertisement
In recent weeks, James has started dating celebrity tattoo artist Kat Von D who has also been spending time getting to know Sunny while her biological mom claims she is being shunned.
Both Lindemulder and James are scheduled to return to Orange County Family Court on October 24, 2010, with Lindemulder requesting a 730 evaluation plus a modification in visitation and counseling for herself, Sunny and Jesse James.
In July, Commissioner Thomas Schulte ruled that both parents would have joint legal custody of Sunny, but that it was in the child's best interest for her to live in with her dad in Austin.
Calls to lawyers for both James and Lindemulder were not returned.
RELATED STORIES:
Jesse James And Sandra Bullock Drop Price On Former Love Nest