Exclusive
EXCLUSIVE INTERVIEW: Jesse James Used 'N' Word During Paternity Battle, Charges Ex Wife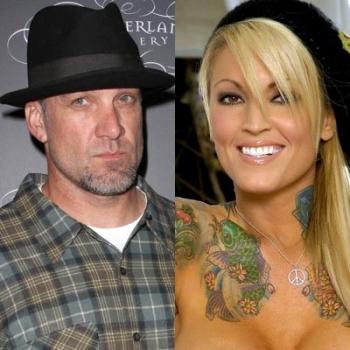 The war between Jesse James and his ex wife just got uglier – a lot uglier.
Janine Lindemulder exclusively told RadarOnline.com that James told her to take a paternity test when she was pregnant with their six year old daughter Sunny. And Lindemulder claims that when Jesse asked for the test he made a shocking racist remark, saying: "I was told that you slept with a n***er."
Lindemulder also told RadarOnline.com: "Sadly, it's all true Jesse was abusive towards me before Sunny was born and he's still alienating me today.
Article continues below advertisement
Jesse James & Kat Von D Kissing
"At the time I begged him not to have the paternity test because of the harmful effects it might have had on our child and that I was 100 per cent sure that the baby was his.
"But he coldly said at the time 'I was told that you slept with a n***er. I couldn't believe he would say that and of course the tests proved that Sunny was his.
"The truth is Jesse did not have much to do with Sunny when she was an infant and when he visited me in the hospital for the first time he taunted me that I 'looked like sh*t', and that our baby 'looked like a boy.'"
James and Lindemulder have been battling in court about Sunny. James moved to Texas with Sunny and Lindemulder claims she is being denied proper access. The battle is continuing.
James denies he was a racist and was caught in a storm of controversy when a photo surfaced of James giving a Nazi salute while placing two fingers under his nose, simulating Adolph Hitler's moustache.
Lindemulder, who has been a porn star, says he kicked her out late in her pregnancy.
Article continues below advertisement
She told RadarOnline.com: "It was only when Sandra Bullock came into his life that he started taking more of an interest (in Sunny).
"When I look back I can't believe the way he behaved but the truth is that it has just gotten worse over the years.
"I recently resumed phone contact with my daughter but she told me she was too busy to talk with me and that 'Kat' (Kat Von D) was there.
"Jesse is alienating me from her but I will fight hard to try and re-establish our bond but it's very hard to constantly battle somebody in court."
MORE ON:
Janine Lindemulder
James is dating Kat Von D.
Read Janine Lindemulder's full letter to Kat Von D
James and Lindemulder married on October, 20, 2002 after Janine signed a pre-nuptial agreement.
On November 7, 2003, James threw Lindemulder out of their Sunset Beach home late in her pregnancy, she claims. Sunny was born January 1, 2004. On February 13, 2004 divorce papers were filed by James citing 'irreconcilable differences'.
Article continues below advertisement
Then on March 3, 2004, James requested genetic tests after he denies paternity – the test results proved that he is Sunny's father.
Both Lindemulder and James are scheduled to return to Orange County Family Court next month with Lindemulder requesting a 730 evaluation plus a modification in visitation and counseling for herself, Sunny and Jesse James too.
In July, Commissioner Thomas Schulte ruled that both parents would have joint legal custody of Sunny, but that it was in the child's best interest for her to live in with her dad Austin.