BOMBSHELL CLAIM: Demi Moore & Ashton Kutcher Have 'Open Marriage'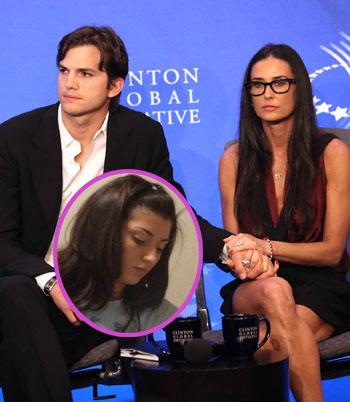 Ashton Kutcher told his alleged mistress Brittney Jones that he and wife Demi Moore shared an open relationship and regularly had threesomes, RadarOnline.com is reporting.
Jones, who says she had sex with Ashton, 32, in his home while an unsuspecting Demi, 47, was filming in Detroit, says the affair was part of the Hollywood hunk taking advantage of his open marriage.
"Ashton said he and Demi have an open relationship and have threesomes often," Jones said, in a new interview.
Article continues below advertisement
She told Star Magazine: "I didn¹t feel at all like he had just cheated on his wife. It felt normal and OK."
RadarOnline.com has independently confirmed the sexual encounter.
It's not the first time Jones, 21, has made stunning accusations about Ashton and Demi's romance. As RadarOnline.com reported exclusively, she confessed to a pal via text message: "Don't believe everything you read about Hollywood 'marriages!"
The apparent love triangle had shocked Hollywood and was considered a personal hell for Demi, who Ashton once described as "magic" and said she "becomes more beautiful... by the minute".
Ashton and Demi have both publicly denied that there was a sexual encounter.
However, according to Brittney, Demi was just upset over her lack of involvement!
"He (Ashton) said they share women, but he isn't supposed to go off and sleep with women on his own," Brittney said.
Article continues below advertisement
He said Demi had to be there and that Demi likes to pick the girls out.
"He explained that he and Demi had a deal where they had to share lovers. He felt bad that he had been with me and didn't share."
Despite the controversy, Demi and Ashton continue to make very public appearances and on Sunday were spotted watching The Social Network at a Hollywood cinema.
RELATED STORIES:
EXCLUSIVE: Naked Photos Of Ashton Kutcher's Mistress Surface -- Her Party Lifestyle Revealed