Exclusive
EXCLUSIVE: Ashton Kutcher Mistress' Shocking Claim - 'Demi Moore & I Are Friends!'; Read Her Text Messages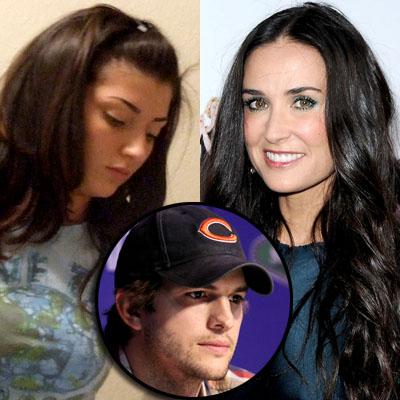 The woman who threatens to shatter one of Hollywood's picture perfect marriages - the union between Ashton Kutcher and Demi Moore - is confiding to friends that the Indecent Proposal star is one of her close pals.
In a shocking twist to Demi's cheating nightmare, Brittney Jones, 21, has admitted she swooped in on another woman's man - who was a "good friend", no less.
"I didn't break up any marriage, in fact Demi and I are good friends," Jones said, in her first comment since the scandal erupted.
Article continues below advertisement
The confession was made in a text message conversation with a friend this week.
And Jones - who claims she had a sex-on-the-sofa tryst with Ashton, 32, while an unsuspecting Demi, 47, was filming in Detroit - is suggesting the couple's marriage is a sham.
"Don't believe everything you read about Hollywood 'marriages'," she told the close acquaintance, in another message, obtained exclusively by RadarOnline.com.
Here's the unedited trail of texts:
BJ: "You should know what you're talking about before you start talking s**t lol. Don't believe everything you read about hollywood 'marriages'
BJ: "I didn't break up any marriage in fact demi and I are good friends"
SOURCE: "Not talking s**t. Just having fun with a funny situation."
When RadarOnline.com questioned Brittney about her electronic exchange confessions on Thursday, she refused to comment and quickly deferred us to her newly appointed publicist.
Article continues below advertisement
Brittney alleges she first met Ashton when he, Demi and their daughter, Rumer, were bowling next to her at Hollywood's Lucky Strike in July.
She slipped her contact number on a napkin and after that, Ashton began sending her suggestive text messages.
Soon the pair was having sex on a couch in the $3 million Beverly Hills home the Dude Where's My Car? star shares with Demi.
"He's a great lover," Brittney said.
"Very considerate and sweet... and it was very special to me."
The love triangle has shocked Hollywood and is a personal hell for Demi, who Ashton once described as "magic" and said she "becomes more beautiful... by the minute".
Brittney's friend told RadarOnline.com she had boasted about a steamy romance with a major superstar.
Said the close pal: "She told us that she had hooked up with a star; she couldn't tell us who it was because it would be national news and all this stuff.
Article continues below advertisement
"She didn't give us a name or anything but she did mention it to us.
VIDEO: Ashton Kutcher Jokes About Heidi Montag
"At the time, we kind of blew it off like, 'Oh whatever, Brittney'.
"She was all over the place, all the time, so we didn't know whether to believe her or not."
Despite the controversy, Demi and Ashton made a very public appearance at Clinton Global Initiative in New York on Thursday.
The pair was the portrait of a happily married couple when Demi and Ashton sat on a panel discussion and flaunted his left hand - on which he was wearing his wedding band.