Exclusive
EXCLUSIVE: Naked Photos Of Ashton Kutcher's Mistress Surface -- Her Party Lifestyle Revealed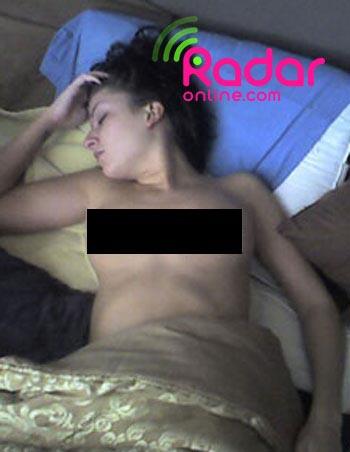 Brittney Jones, the woman who says she had a steamy one-night affair with married Hollywood heartthrob Ashton Kutcher, has a history of wild partying and a passion for posing naked — and RadarOnline.com has obtaned never-before-seen images of the woman at the center of the scandal
The provocative photos leave little to the imagination and expose the 21-year-old woman like you have never seen her before: in various positions on the floor and in the bed at the home she shared with a former boyfriend.
Article continues below advertisement
In one of the photos, a tattoo is visible on Jones' left shoulder blade.
"She and her mother have the same tattoo," a source close to Jones told RadarOnline.com, in an exclusive interview.
"She never told me what it said… it's written in Greek."
As RadarOnline.com revealed, Jones had "always been obsessed with Ashton" pre-dating the scandal that has engulfed Hollywood's most picture-perfect couples, on the eve of their fifth wedding anniversary.
While Kutcher and wife Demi Moore put on a united front, those close to the mistress are painting a picture of the woman at the centre of the allegations – allegations which one source close to Kutcher says are true.
"She definitely is a hard partier and always drank a lot," said one source who knows her.
According to the insider, Jones has been "couch surfing" from house to house, living with various men in her life.
Article continues below advertisement
"She seems to have fallen out with her mom and sister and just lives off of her boyfriends," the source said.
Jones went public in a Star Magazine cover story, claiming she had a one-night tryst with Kutcher, 32, after meeting him in July at Lucky Strike Lanes in Hollywood.
Kutcher was with his wife, her daughter Rumer Willis and some friends, at the time.
Despite being surrounded by his family, Jones alleged Kutcher still struck up a conversation with her, so she slipped him her number on a cocktail napkin when he left.
Check out Egotastic.com for the uncensored pics.
A few days later, Jones said the actor brought her back to the sprawling Hollywood mansion he shares with Moore, where they had sex on the couch while his wife was away.
And a source close to the situation confirmed to RadarOnline.com that Kutcher had strayed.
Still, it was a one-night stand, according to sources.
Even a trail of text messages between Kutcher and Jones have surfaced -- published by Star magazine -- chronicling the saga of their "relationship."
Article continues below advertisement
VIDEO: Ashton Kutcher Jokes About Heidi Montag
In one Brittney asked, "Whens the next time you're gonna have an empty house?"
To which Ashton replied, "Not sure maybe the end of the month" -- noting at the time he was "w/ my daughter."
While Kutcher has denied the tryst, for those who know Jones, who has now employed a manager and publicist, the explosive revelations come as no surprise.
Said one source: "She once told me he (Kutcher) was by far the number one celebrity she'd like to have sex with."