PHOTOS: Ashton Kutcher Holding On To Demi Moore -- And Marriage -- Amid Scandal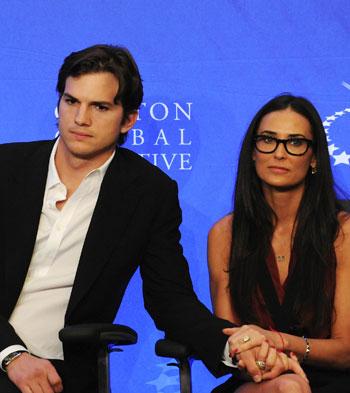 Despite allegations of an affair, actress Demi Moore is sticking by hubby Ashton Kutcher and RadarOnline.com has the most recent photos of the couple.
Ashton and Demi made an appearance at a press conference in New York City on Thursday to support the launch of a campaign to help end child hunger and appeared to be united, holding hands in many of the photographs.
Married five years on Friday, the famous pair hit a speed bump in their fairytale relationship when 21-year-old Brittney Jones publicly declared that she had a steamy affair with Ashton.
Article continues below advertisement
A source close to Brittney told RadarOnline.com exclusively that Jones "has always been obsessed with Ashton" even before she entangled herself in an affair with the married actor.
"She told me once that he was by far the number one celebrity she'd like to have sex with," said the insider, who knows Brittney extremely well.
RELATED STORIES:
EXCLUSIVE: Ashton Kutcher's Mistress Was 'Obsessed With Him For Years' – New Photos