Exclusive
EXCLUSIVE: Ashton Kutcher's Mistress Says, 'I Always Have Weed To Share' - Read The Text Messages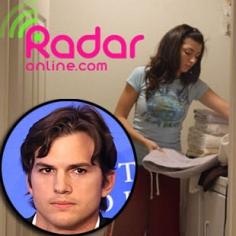 Ashton Kutcher's alleged mistress Brittney Jones likes to party hard, and RadarOnline.com has the exclusive text messages to prove it.
A source close to Brittney tells RadarOnline.com that the 21-year-old has a long history of abusing drugs and alcohol saying, "She's a total party animal. She drinks every night, and openly talks about being an alcoholic.
"I only saw her smoke pot and stuff like that... but I'd almost guarantee you she's done everything in the book."
Article continues below advertisement
In exclusive text messages obtained by RadarOnline.com, Brittney freely offers to supply her friend with marijuana.
"Yeah! Whenever you want I always have weed to share :)" Brittney wrote.
See the full string of text messages below:
BJ: "Aw yay I love being the center of attention haha! Yeah I'm pretty bored at home I wish I went"
SOURCE: "Haha you should have. We need to have another smoke out... Good times..."
BJ: "Yeah! Whenever you want I always have weed to share :)"
SOURCE: "Don't tease me."
BJ: "I never tease :)"
Brittney claims to have met Ashton at Lucky Strike bowling alley in Hollywood where she exchanged phone numbers with the Just Married actor and later hooked up at the home he shares with his wife, actress Demi Moore, for a steamy night together on the couch.
"She was such a train wreck that we all didn't even want to hook up with her," the source said.
Article continues below advertisement
"She was constantly talking about how she's been an alcoholic for years and drinks every day; drinks a bottle of wine a day and all this other stuff."
The alleged affair is just the latest to rock Hollywood this year, following cheating scandals from Tiger Woods on his then-wife Elin Nordegren and Jesse James on his then-wife Sandra Bullock.
RELATED STORIES:
EXCLUSIVE: Ashton Kutcher's Mistress Was 'Obsessed With Him For Years' -- New Photos