Exclusive
NEW DETAILS: Mel & Oksana - Tree Planting Ceremony Triggered The Break Up That Ended In Scandal - Read It Only On Radar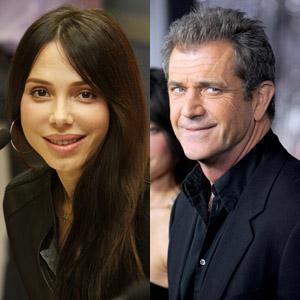 It was their final blowup, a confrontation that has led to one of the most explosive scandals to hit Hollywood in recent memory, with allegations of domestic violence being leveled at one of the richest and most powerful men in Tinseltown.
On February 18, Mel Gibson and the mother of his illegitimate child, Oksana Grigorieva, gathered with close friends and family at Mel's multi-million dollar Malibu mansion for a tree planting ceremony in honor of their three-month-old daughter Lucia.
Article continues below advertisement
What should have been a joyous occasion soon turned sour and exposed the growing tension in the couple's volatile relationship, which had secretly hit a shocking low just a month earlier, when Mel allegedly beat Oksana and pulled a gun on her, Lucia and her son.
When the dark-haired Russian beauty started talking to one of the gardeners, Mel became angry and accused his lover of "smiling too much" at the worker, a source with knowledge of the situation, told RadarOnline.com.
In the hours that followed, Mel and Oksana's three-year relationship, which began while the actor was still married, imploded.
At approximately 6 pm, Oksana, 40, walked out on her Oscar-winning lover for good, taking Lucia to one of Mel's other properties, in Sherman Oaks.
Later that night, while Lucia slept, Mel and Oksana argued by phone, with Mel spewing vile profanities and threats, a scenario that had become commonplace in their romance.
Article continues below advertisement
In a phone call Oksana recorded, Mel demanded sex from Oksana and in a twisted rant, told her he planned to burn down her house afterward.
"I deserve to be blown first... before the f*cking Jacuzzi," Mel raged at Oksana, in the tapes released exclusively on RadarOnline.com.
The night before, Oksana had fallen asleep without engaging in sex at the Jacuzzi of Mel's home, as he had wanted. Furious, Mel continued: "I'll burn the goddamn house up, but blow me first! How dare you!"
The aftershocks of Mel's outbursts -- which included the hate-fueled statement that Oksana would be "raped by a pack of n****s" -- are still being felt across Hollywood.
While many are asking if Mel will ever work in Hollywood again, the Lethal Weapon star has more pressing issues.
The domestic violence case is currently before the Los Angeles County Sheriff's Department with the L.A. District Attorney's Office already involved. And the Department of Children And Family Services is also investigating as a judge oversees the one-time couple's civil battle over custody of Lucia.
Article continues below advertisement
At the center of the probe is a brutal confrontation on January 6, when Mel, according to Oksana, threatened to kill her, Lucia and her son Sascha, before saying he would kill himself, in an apparent murder-suicide plot.
Oksana has painted a horrifying picture of Mel's uncontrollable rage that night – and others -- to law enforcement authorities.
She accused the star of punching her twice on January 6, causing damage to her mouth. Photos of the damage have been presented as evidence in the various investigations.
Oksana also has a declaration from her dentist strongly supporting her and showing that one veneer was snapped off and another cracked as the result of tremendous force. (One erroneous report claimed the dentist doubted her story; that report was discredited and representatives for the dentist have said that he never said what was falsely attribute to him. Amazingly, the same report, later retracted, said Oksana's injuries were self inflicted.)
Article continues below advertisement
What's more, Oksana was diagnosed with a concussion, as RadarOnline.com was first to report. On January 8, she visited Dr. Arthur Gordon, who can now be a key witness in the various investigations.
Mel has denied all the allegations and said he never hit Oksana. But the well-documented injuries that she suffered January 6 have left people close to the case saying it's clear that the star has a "rage issue."
He is caught on tape admitting he hit Oksana because she "f**king deserved it."
Mel and his lawyers have fought back, accusing Oksana of trying to extort him and of shaking baby Lucia.
According to Oksana, the Jan. 6 argument began because she attended Sascha's basketball game, leaving Lucia at home with the Braveheart star and their nanny.
In a fit of rage, Mel repeatedly called Oksana while she was at the game -- in all, approximately 10 times during a half an hour -- screaming about her being around other children's fathers.
Article continues below advertisement
At one point, the nanny also called Oksana to report Mel was pacing the house and slamming doors.
Mel was scaring the nanny so much, she and Lucia went to hide in a bedroom, until Oksana returned home.
When she did, around 6 pm, Mel was enraged and began calling her names, including, 'Whore, Gold Digger, C*nt and F*cking C*nt' and was walking around the house, banging even more doors.
Oksana took Lucia into the main bedroom and that's where she says Mel punched her.
Enraged, the 54-year-old raised his hand and punched her in the mouth and then punched her again in the left temple, Oksana charged.
The force of Mel's punches were so strong, they threw Oksana back onto the bed while she was holding the baby.
Oksana alleged Mel then took his forearm to her neck, choking her. He pushed the palm of his other hand into her face.
She begged Mel to stop, but unrelenting, he kept screaming for Oksana to apologize. His fury was so much he was spitting in Oksana's face, she claimed.
Article continues below advertisement
During this ordeal, Oksana's 12-year-old son, Sascha, was cowering near the bed.
As RadarOnline.com has reported, Sascha — the son of British actor Timothy Dalton, who played James Bond in two films — could be a vital witness. Sascha was interviewed by child protective services agents a week ago, as first reported by RadarOnline.com.
We also exclusively reported that Mel was interviewed by DCFS this past week.
Oksana eventually escaped from Mel's house, still wearing her pajamas and barefooted, with Lucia and Sascha.
Oksana's potentially devastating testimony is providing a road map to investigators, who could charge Mel with domestic battery, child endangerment and assault with a deadly weapon.
In addition to the photo of Oksana, with one veneer cracked and another snapped off, investigators are also examining an image of Lucia with an apparent abrasion that her mother claims happened because of the incident.
Article continues below advertisement
There are also hundreds of emails and text messages between Mel and Oksana.
In one text message, as RadarOnline.com exclusively revealed, Mel wrote at 3:25 pm on January 7: "Oksana, I wasn't safe for you last night."
EXCLUSIVE: Mel's Text To Oksana After Brawl
He added, "I spent two hours with a therapist today and have regained some perspective. What I'm telling you now is I am safe & would like to come by and make amends to you, Sascha and Lucia. I won't stay, just let you say your peace and I'll say mine."
Mel's reps have indicated they have a secret text message and e-mails to support their extortion claim. In one, Oksana allegedly wrote the reason she recorded him was because "you broke your agreement with me."
The Los Angeles County Sheriff's Department confirmed they are also looking into the extortion claim, however, Oksana denied the allegation in front of a swarm of videographers, labeling Mel "a liar."
Article continues below advertisement
As RadarOnline.com first revealed, Mel offered Oksana $15 million in a peace deal to settle their bitter custody battle before it took this dramatic turn.
But Oksana rejected the massive cash settlement. Her side says it's because she would have had to share custody of Lucia.
"Mel wanted Oksana to sign an agreement that would have meant Lucia spends 80 per cent of her time with her mother and the remaining 20 per cent with her father," said a source, familiar with the case. Over time, it would have increased to 50-50."
Despite the money, Oksana didn't sign.
Complicating matters, Oksana signed a draft of the out-of-court settlement, but then changed her mind and wouldn't sign the final, long form agreement.
Mel's camp charges she was holding out for more money.
But Team Oksana is citing this — along with a co-habitation agreement she signed while pregnant, waving rights to Mel's billion-dollar fortune -- as proof she wasn't extorting Mel for money.
Article continues below advertisement
With no agreement in place, all hell broke loose.
Both sides slapped each other with restraining orders under seal. RadarOnline.com was first to report the existence of the restraining orders.
The last three weeks have left everyone asking how one of Hollywood's most celebrated actors could fall so heavily from grace.
According to Oksana, attempting to provide an explanation to law enforcement about Mel's meltdowns, notably all their incidents occurred when he was trying to quit smoking.