Exclusive
EXCLUSIVE: Oksana Signed Away Right To Mel Gibson's Billion Dollar Fortune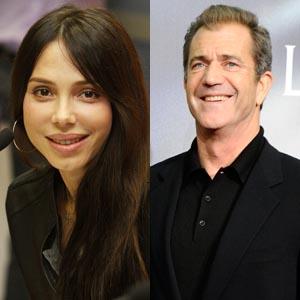 Mel Gibson's baby mama Oksana Grigorieva signed a cohabitation agreement that locked her out of securing a slice of the Oscar winning director/actor's billion-dollar fortune, RadarOnline.com has exclusively learned.
The contract, which Oksana signed while she was pregnant last year, prevents her from laying any future claim to Gibson's extensive business empire or vast assets, we're told.
However, it includes provisions for the Russian musician to financially care for their eight-month-old daughter, Lucia.
Article continues below advertisement
Despite the agreement, the 55-year-old Braveheart star has not met his financial obligations or paid a cent in child support, a source close to the situation told RadarOnline.com.
"He is not paying me a penny," Grigorieva even admitted not soon after their bitter court battle became public.
She told a British newspaper, "I am having to live on credit cards and borrowed money... It is not a good situation."
A cohabitation agreement, much like a prenuptial agreement, is a legal agreement reached between a couple who have chosen to live together.
It is struck in order to protect individuals from unnecessary cost and litigation should their cohabitation break down.
Gibson split with his now ex-wife Robyn in April last year, just days after he was photographed kissing Grigorieva on a Costa Rican beach. Mel and Robyn had been married for 28 years and have seven children
Article continues below advertisement
together.
But the new relationship fell apart two months ago in a sensational split.
Sources close to Grigorieva cite the cohabitation agreement as proof she is not interested in Mel's fortune.
Yet, Grigorieva is disputing the legality of a mediation agreement because, according to her, she signed it in draft form, under duress late last month.
She did not agree to the final version because it awarded custody of Lucia to her 80 per cent of the time, and 20 per cent to Gibson, we're told.
"Oksana thought that wasn't fair or safe," a source told RadarOnline.com.
Yet, despite the shocking audio tape revelations, in which Gibson unleashed a horrific, profanity-laced tirade against Grigorieva, he has continued to have visitation rights to Lucia, RadarOnline.com has also
learned.
The actor had custody of his daughter this past Friday, when the first tape of his disgusting rantings was released to the world on RadarOnline.com.
"A third party ferries Lucia from Oksana to Mel," said a source familar with the situation.
VIDEO: Oksana's Music Video – Directed By Mel
"They have no communication whatsoever... infact, Oksana fears for her daughter's safety when she is with Mel.
"But a court has ordered he has share custody of Lucia, so there is little Oksana can do in the meantime."
Following the tape's release, Gibson's talent agency dropped the star, reportedly for being a liability.