Exclusive
WORLD EXCLUSIVE: The Photo Of Oksana After She Says Mel Gibson Punched Her In The Mouth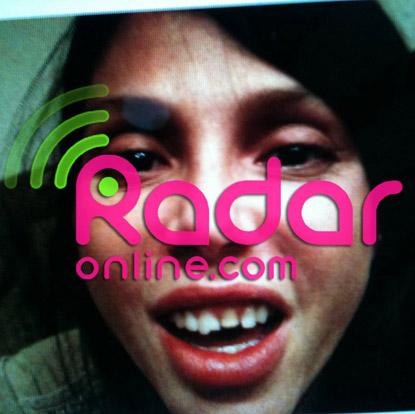 WARNING: This photograph may not be reproduced.
It is the photograph everyone has been waiting to see.
It is the evidence that could be used to bring criminal charges against Oscar-winner Mel Gibson.
In a blockbuster world exclusive, RadarOnline.com has exclusively obtained a disturbing picture of Oksana Grigorieva taken just hours after she claims Gibson punched her in the face.
The photograph is part of the Los Angeles County Sheriff's Department investigation into the actor for domestic violence.
Article continues below advertisement
It's also included in Oksana's declaration to the court in the estranged couple's vicious custody battle over their eight-month-old daughter Lucia.
The image shows the damage to the Russian-born musician's front teeth after the couple's brutal blowout at Mel's Malibu mansion on January 6.
Oksana has told police that Mel punched her in the face while she held their infant daughter Lucia and that the force of his blows broke her teeth and left her with a concussion, RadarOnline.com has learned exclusively.
Oksana's two upper front teeth are clearly damaged as our world exclusive photo shows.
"Oksana lost a veneer and the right front tooth was severely chipped," said a source, familiar with the law enforcement investigation.
Dental veneers are custom-designed shells of tooth-like ceramic material. They are bonded to the teeth with various types of resin cement.
Veneers can be dislodged only with significant force and that's exactly how Oksana's was knocked out in her brutal fight with Mel, sources told RadarOnline.com.
Article continues below advertisement
The damage left Oksana in need of urgent medical assistance, she told police probing the case.
RadarOnline.com obtained this evidence after Gibson's camp issued a carefully worded denial that she had suffered the injuries.
Mel's representatives insisted Oksana has provided zero evidence to support her claim that Mel caused damage.
"Not true... her teeth are in her mouth according to our information," one of Mel's laywers told RadarOnline.com, last month.
But as we RadarOnline.com exclusively reported Mel admitted to hitting Oksana in an audio recording of a telephone conversation in which the enraged actor says "you f**king deserved it" after she protested that the Braveheart star hit her and broke her teeth.
RadarOnline.com's world exclusive photograph of the damage to Oksana's teeth was taken within 24 hours after the fight and is a key piece of evidence in her claim against Gibson.
Article continues below advertisement
The dentist who repaired the teeth, Dr. Ross Shelden, also took photos of Oksana's mouth and turned them over to her lawyers.
In his declaration, Sheldon said he saw evidence of "blunt force trauma" as well as physical damage.
The allegations of violence have been backed up with outrageous audio recordings, obtained and released exclusively by RadarOnline.com, in which Mel threatens Oksana with physical harm.
In one of the taped conversations, an out-of-control Mel is heard yelling: "You need a f **king bat in the side of the head."
Other audio released by RadarOnline.com has included Mel spewing vile, racist remarks and telling Oksana that she will be raped by a "pack of n***ers."
In the latest recording released, Mel is heard yelling and demanding sex and threatening to burn the house down.
"I deserve to be bl * wn first, before the f **king jacuzzi," Mel tells Oksana, as he heaves loudly over the phone, later adding: "OK, I'll burn the goddamn house down but bl*n me first! How dare you?"
Article continues below advertisement
Mel Gibson's Girlfriend Oksana Grigorieva Spotted at Lawyers Office
Oksana is also claiming that the baby -- who was two months old at the time of the alleged incident -- was hit when Gibson lunged for her.
RadarOnline.com reported exclusively that there are photographs of the baby with a bruise on her face.
Oksana also told investigators that Mel, 54, waved a gun in her face after she was beaten by him and tried to get away.