Jared Fogle Finalizes Divorce: Documents Reveal Wife & Children's Devastation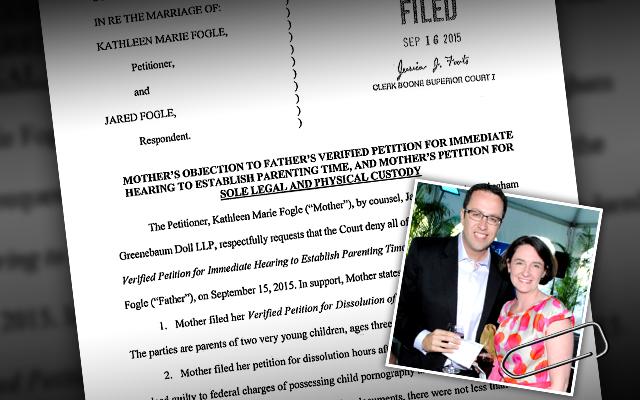 Jared Fogle's secret world of child pornography and underage girls cost him his job, his freedom, and now, his family.
The disgraced Subway spokesman, 38— who was sentenced to more than 15 years in federal prison last week on related charges— and his wife of five years, Katie, finalized their divorce in Indiana court on November 16, RadarOnline.com can exclusively reveal.
Like Jared's federal investigation and subsequent criminal case, the divorce was far from pleasant.
Article continues below advertisement
"Father is an admitted pedophile and consumer of child pornography," her attorney stated. "The potential risk that Father poses to the children is both obvious and unacceptable."
Plus, she argued, the children "have grown accustomed to not seeing father" since August 12, likely when Katie learned the extent of her husband's double life.
In a statement that's sure to sting, Katie claimed that Jared was never much of a dad even before the scandal erupted this summer.
Article continues below advertisement
"The reality is that, due to Father's significant travel, he did not play much of a role in the day-to-day lives of the children even prior to becoming the focus of a criminal investigation," her lawyers wrote.
Despite his relative absence from his family's lives, Katie insisted that Jared's scandal brought them so much shame and unwanted attention, they were forced to flee their Indianapolis-area home and relocate to a different state.
With his request that the children return to Indiana for a visit, Jared "seeks to re-victimize" them by dragging them into his "self-inflicted…circus," Katie claimed.
She then begged the court to grant her sole legal and physical custody of both kids.
But just a week later, Katie changed her tune. On September 22, both parties fled an entry requesting to dismiss both Jared's petition for hearing to establish parenting time and Katie's scathing objection to the petition.
Article continues below advertisement
In a shocking twist, the exes called a truce and participated in a "successful mediation" of their many issues with their respective attorneys on November 12.
The details of the mediation's outcome were not made public, though a judge mentioned during Jared's sentencing that he gave Katie $7 million as part of the settlement.
Jared was also ordered to attend a four-hour educational program called Children Cope With Divorce, which he completed before he was taken into custody.
The former pitchman and children's charity founder is now in a Henderson, Kentucky, detention center, but will reportedly soon be transferred to a Littleton, Colorado prison.
There's no word on if Katie plans to travel with the children for a jailhouse visit.