Vicki Gunvalson's Daughter: Brooks Ayers Has Shown 'Very Shocking & Extremely Disrespectful' Behavior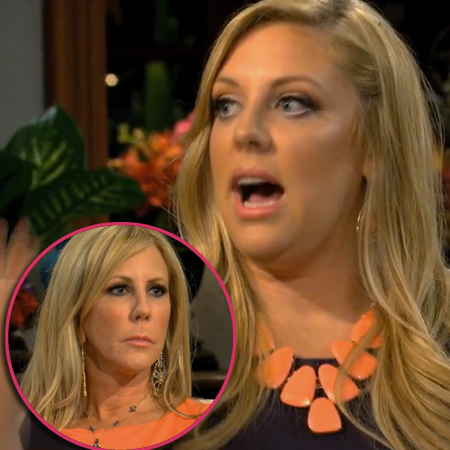 Article continues below advertisement
Briana said that Ayers "isn't allowed around me and my son" when she comes over, instead spending time with Vicki when they're not around.
"I didn't want him around my husband, myself and my son," Briana said. "As long as we were there, for that day and that dinner, I didn't want him around."
While Vicki writes it off that Briana doesn't like him, Briana says "it's beyond liking," as his actions are "very shocking and extremely disprepectful, and he's proven to be someone I don't trust around my family."
When Andy presses Briana for details about the distrust, it hits a nerve with Vicki, who springs on the offensive on Cohen, the mastermind behind the wildly-successful Bravo franchise.
"That's that -- I'm telling you right now, I'm de-mic and walk off," Vicki says. "We're not getting into detail, this is not a Brook-bashing moment, he's already been bashed enough."
As we previously reported, Brooks image probably won't be helped by our exclusive bombshell audio on RadarOnline.com, as he's heard boasting that he's free with his hands when it comes to Vicki "because … that's what we do in the South."
Watch the video on RadarOnline.com
Part three of the Real Housewives of Orange County reunion airs on Bravo Monday at 8/7c.