'VPR' Recap: Tom Schwartz Calls Katie Maloney A Bad Wife In Nasty Fight
Is the only marriage on Vanderpump Rules crumbling?
On the latest episode, a miserable Katie Maloney ripped into husband Tom Schwartz after his restaurant opening, and during their Mexican vacation!
"I'm so happy to see you so excited," Maloney told Schwartz before the big opening, but she complained, "I just hope that now it is open maybe you'll have more time for me."
She explained in her confessional what was going on: "I'm so proud of Tom with TomTom being open but I'll be honest I haven't seen much of Tom. I'm ready for a little Tom time."
Article continues below advertisement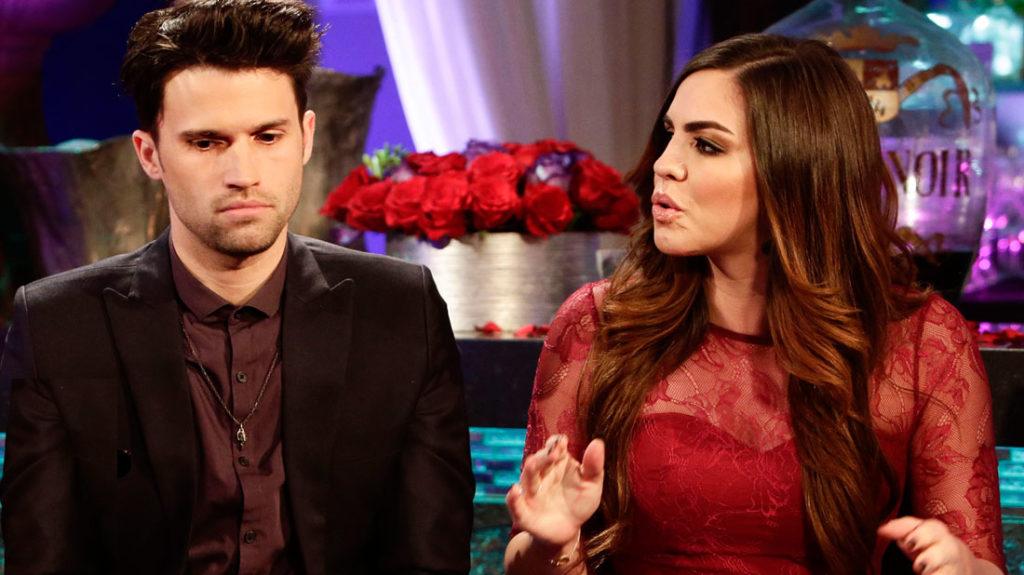 He and Sandoval put on a show when they arrived, jumping on a motorcycle with a side car dressed in matching white suits. The crowd cheered.
During the party, Lisa Vanderpump confronted Lala Kent over her blowout fights with Billie Lee and Raquel Leviss a few days earlier.
"What happened, some altercation between you and Billie?" Vanderpump asked.
Kent told her she felt "extremely disrespected," but insisted she was not aggressive. "I said my peace and that was that. We had a very civilized conversation," she said.
Article continues below advertisement
Vanderpump didn't exactly believe her, as that wasn't the same story she heard from James Kennedy, so she asked Scheana Marie what really happened.
"I don't want Lala mad at me, but I can't lie to my boss," Marie said.
"Sheana girl, shut the f**k up, she is not having my back right now," Kent said in her confessional.
"I respect Lisa enough not to throw down in her restaurant," Kent finally admitted.
Then the whole crew headed down to Puerto Vallarta where Maloney and Schwartz's fighting exploded.
Schwartz and Marie got randomly upgraded to First Class on the flight down, which infuriated Maloney, especially since she asked him to give her the seat and he said no.
"Katie was rage texting me," Schwartz said in his confessional about his angry wife . "She started in with 'you only care about yourself.' That bubble it never stopped. She hasn't rage texted me in like a year."
The arrived at the luxurious hotel but a sulky Maloney picked a fight with Schwartz in the lobby, leading him to ask if she's been drinking, and they continued the fight in their room.
Article continues below advertisement
While all the other couples — Ariana Madix and Sandoval, Shroeder and boyfriend Beau, and Jax Taylor and Brittany Cartwright — were loving their rooms, Maloney and Schwartz were fighting.
"Are you going to be cranky the whole trip? Bubba you're being a wet blanket," Schwartz said.
"I'm sorry I haven't seen you much lately. I've been begging for you to pay attention to me," his wife said.
"This is vintage Katie and I'm not having it," he said. "You put a damper on 70 percent of our vacations."
"You're delirious and you're acting like a fool," he told her. "I can't believe you're acting like this because you had to sit in a random seat."
"That's not it," Maloney insisted. "For the last four months I've barely seen you."
When he told her he was working, she said: "I'm your wife! How many times have I told you that I missed you?"
"I'm mad that Tom hasn't been making any effort with me in our relationship. Just because you have a bar doesn't mean you don't have time for your wife," Maloney said in her confessional.
Article continues below advertisement
The other couples could hear the bickering escalating from their own balconies.
"Just shut up. Stop talking and listen Tom. All I need you to do is f**king listen to me," Maloney yelled.
"The problem is I don't like the sound of your voice," Schwartz said. "It's like a cacophony."
Insulted, she said to him: "Do you know how derogatory the s**t you've been saying to me is?"
But he wasn't backing down. "Your tone and everything about you is ick," he told her.
"You don't sound cute; you sound like a f**ing douche bag," she yelled at him, adding that he had a "little f**king pathetic brain."
Schwartz ripped into her: "We just got here, that's how selfish you are."
Yelling, Katie told him: "You don't have the wherewithal to say 'I've been a sh*tty husband," and he said back: "Try being with a sh*tty wife for seven fucking years."
Vanderpump Rules ended with a "To Be Continued" message.
Stay with Radar for weekly recaps!